Peter Berg To Direct Rihanna Documentary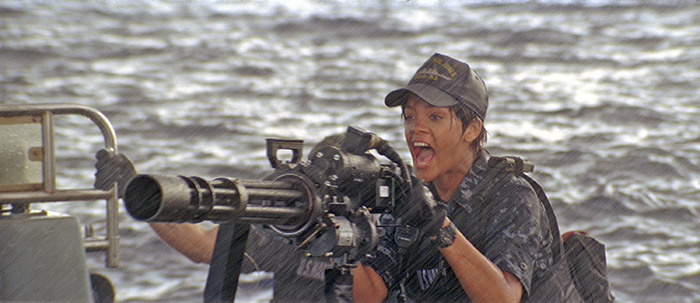 Peter Berg cast Rihanna in his film Battleship, and now he's going to direct a documentary about her. With producer Matthew Goldberg, Peter Berg recently launched a new production outfit called Film 45, which will create "non-scripted and branded entertainment for film, TV and other platforms." One of the first productions from the company will be the Rihanna documentary... and it will be based on a film about Bob Dylan.Deadline has the news. The interesting bit is this description of the film:
A contemporary take on the 1967 Bob Dylan rock doc Don't Look Back, the film is described as an "unfiltered look into Rihanna's life and how she's ascended to become a global icon."
The Dylan film is fantastic — a true landmark for rock docs — and makes for inspiration that is surprising at first, because of the obvious differences between the two artists. But as far as structure goes, it makes perfect sense. Berg says the house style for Film 45 "for most part, is cinema verite," so that should give you some idea of what to expect the Rihanna documentary to look like. Not super-polished, but intimate.
Berg also said that this film will be "much more a character study than a music film."
Film 45 (which is a companion company to Berg's primary company Film 44) also has quite a few other projects: a second season of State of Play for HBO; a doc about boxing promoter Bob Arum; an 8-part series for History that will tell the stories of US Special Forces soldiers; and a digital series called Call & Answer that "is aimed at the armed forces community."