Sequel Bits: 'Spectre', 'Pirates 5', 'Fifty Shades', 'Alien', 'High Fidelity', 'Wet Hot American Summer'
Whether you're into boxing, singing rodents, or BDSM, there's something in here for you. After the jump:
Michael B. Jordan gets into fighting shape for Creed
The Alvin and the Chipmunks 4 cast continues to grow
The Sharknado labor strike rains down upon DC
Fifty Shades stars want bigger paychecks for the sequel
Spectre adds Stephanie Sigman as another Bond girl
A knife attack and an injury threaten Pirates 5
Nick Hornby shares his thoughts on a High Fidelity sequel
Neill Blomkamp has more stuff to say about Alien
Bradley Cooper did one day on the Wet Hot prequel
Michael B. Jordan has always been in good shape — his signature roles include a high school football star and a bona fide superhero — but he's getting flat-out jacked for the Rocky sequel Creed. The actor shared a photo of himself training for the boxing drama.
Sometimes you can't always see the destination but you do find out what you're made of in the journey! @mrcalliet has been sculpting since I first walked into the gym! Tomorrow isn't promised and today is the youngest you will be for the rest of your life! No excuses! Get up and get it while you can!! Photo cred: @eli_joshua
A photo posted by michaelbjordan (@michaelbjordan) on
Creed is shooting now for release on November 25, 2015. Ryan Coogler (Fruitvale) is directing. [Instagram]Alvin and the Chipmunks: The Road Chip has picked up Kimberly Williams-Paisley in an unnamed role. The CG / live-action hybrid sends the rodents on a journey to New York, after a mix-up leads them to believe Dave (Jason Lee) intends to dump them after proposing to his girlfriend. Walt Becker directs. The Road Chip arrives December 23. [Deadline]
Like the Sharknado itself, the Sharknado protest is on the move. Picketers interrupted the Sharknado 3 shoot in front of the White House this week, criticizing The Asylum's refusal to let its production crew members enter a union contract.
According to the IATSE, their actions have forced the company to "rewrite a number of scenes, extend their shooting schedule, and scale back production." At this point, the strike has gone on long enough that Sharknado 3 no longer looks likely to make its planned July debut on Syfy. [Deadline]Pirates of the Caribbean 5 has hit some rough waters Down Under. A man dressed as a pirate, complete with a live parrot on his shoulder, threatened a security guard on the film's Gold Coast set. Local police arrested him shortly afterward. Thankfully, there are no reports so far of his having harmed anyone.
Police release image of 'pirate' on the run http://t.co/OQQjWatp3W pic.twitter.com/pXoEFFkiZE

— Ofelia Singleton (@Ofelia_sing) March 10, 2015
In unrelated news, star Johnny Depp has injured his hand while on location in Australia. Production will be "minimally impacted" as he returns to the U.S. for surgery and then recovers. The film will shoot around Depp's lead character for the next few weeks.
Pirates of the Caribbean 5 began filming last month and is still on track to wrap this summer for release on July 7, 2017. Espen Sandberg and Joachim Rønning are directing. [THR, Variety]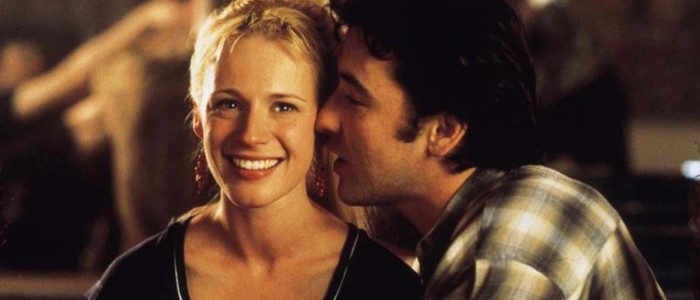 Ever wonder what became of Rob and Laura from High Fidelity? Author Nick Hornby has, and he has half of an answer:
I have, from time to time, considered writing a sequel to the book. Rob and his long-suffering girlfriend Laura seemed emblematic of a certain kind of contemporary relationship — Rob confused and drifting, Laura focused and several years further on into adulthood. Maybe it would be interesting to see how they were getting on as they approached middle age. Did they have kids? Were they still together? What was Rob up to now? The answers to the first two questions were up to me (I reckon yes and no), but I could never come up with an answer to the third, or at least, not one that interested me enough to spend a couple of years of my life exploring.
That last part suggests we won't be getting a High Fidelity sequel anytime soon, but hey, at least now we know for certain that Rob and Laura's relationship was doomed. [THR]
Fifty Shades of Grey has made a hell of a lot of money — $528 million worldwide, to be precise. Now Jamie Dornan and Dakota Johnson want in on some of that haul. They're reportedly negotiating seven-figure raises for the sequels, Fifty Shades Darker and Fifty Shades Freed, after making just $250,000 plus bonuses for the first film.
Both are already contracted to return, but Universal likely wants to keep them happy. The next Fifty Shades film is expected to start shooting in early 2016 for release in 2017. [THR]
James Bond is getting some more female company for Spectre. Mexican actress Stephanie Sigman has signed on for the mysterious role of Estrella, likely the femme fatale of the piece. Her previous credits include Miss Bala, FX's The Bridge, and Netflix's upcoming drug drama Narcos.
We are pleased to announce that @SigmanStephanie has joined the cast of #SPECTRE as Estrella pic.twitter.com/63ibzmlFFz

— James Bond (@007) March 9, 2015
Sigman joins an international cast that also includes Daniel Craig, Christoph Waltz, Monica Belluci, Lea Seydoux, Dave Bautista, Ben Whishaw, and Ralph Fiennes. Sam Mendes is directing. Spectre lands November 6, 2015. [TheWrap]
Neill Blomkamp has more to say about his Alien movie. Or movies, if he has his way — he thinks there's enough there for "at least a film, if not more." Specifically, he talks about how he came to the project:
[W]hen I went back to Vancouver for 2014 unclear of what I wanted to make, I knew that my artistic compass kept driving me to Alien. Whenever I wasn't needed on Chappie, I spent time on Alien, to the point where I hired my own concept artist and fleshed the entire movie out, basically. Even then, I still didn't know if I wanted to do it. [...]
Well, the thing that actually made it really clear was that we have xenomorphs all over the house [including drinking glasses depicting graphic scenes from the films]. No bullshit, that actually is what made me realize that there's a massive portion of my brain that's taken up by the world of the xenomorph. And I'm like, 'Hmm. Valid point.'
For even more from Blomkamp, listen to his entire appearance on the Empire podcast:
[Empire]
It seems like a minor miracle that David Wain and Michael Showalter were able to get the entire cast of Wet Hot American Summer back together for the prequel, especially considering how many of them have gone on to much bigger careers. But the real story has nothing to do with magic and everything to do with careful planning.
Wain and Showalter mapped out the entire series in advance so that stars like Amy Poehler and Paul Rudd could squeeze all of their scenes into just a few days. In the case of Bradley Cooper, they managed to compress his entire contribution into a single day of shooting.
As with Arrested Development Season 4, the Wet Hot American Summer: First Day of Camp shoot involved some trickery. Some of Cooper's scenes were shot with real live scene partners (including Poehler and Michael Ian Black) but others involve reaction shots captured weeks in advance. Unlike Arrested Development Season 4, however, WHAS:FDOC won't split up its characters. Even Cooper appears in multiple installments.
Wet Hot American Summer: First Day of Camp premieres July 17. [Vulture]