'Homeland' Season 5 Will Jump Ahead, Move To Europe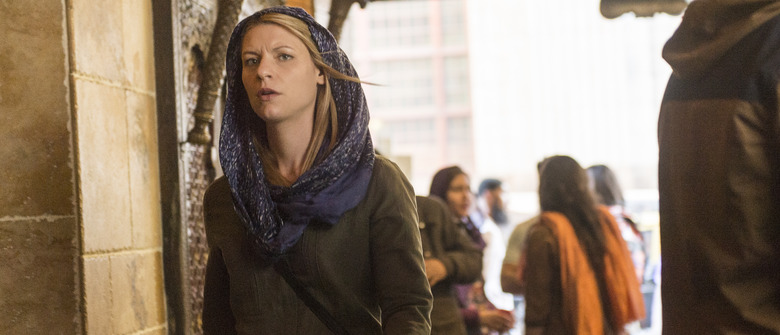 Homeland Season 5 will be making a major leap through time and space. Showrunner Alex Gansa has revealed that the next season of the Showtime thriller will pick up two and a half years after the end of Season 4, finding Carrie (Claire Danes) in Europe.
Naturally, this means Carrie herself will have undergone some big changes as well. Find out what she will be doing — or rather, what she won't be doing — plus other Homeland Season 5 details after the jump. 
Gansa and Danes spilled the beans at PaleyFest. The show has had time jumps before, including one between Seasons 3 and 4, but this two-and-a-half-year leap will be the biggest one yet. The change in scenery is notable, too — Homeland will shoot Europe, likely Germany, later this year.
As for Carrie, Gansa dropped the bombshell that she "will no longer be an intelligence officer." Of course, this is still Homeland, which means it can't possibly be long before Carrie gets sucked back into a web of intrigue, in some way or another. But for now, Danes joked, "She's making beer and sausage."
That's about all Gansa would give away about Homeland Season 5, but a few other interesting tidbits about past seasons were revealed at the event. Apparently the writers room was divided on the Carrie / Quinn romance, with all of the male writers except for Gansa opposing the development. But, writer Meredith Stiehm argued, "I felt there was something in the air [between them] from day one."
Danes spoke highly of a controversial scene early in the season, when Carrie thinks about drowning her baby. "It was not a real baby — I just want to clarify," she explained. That said, she continued, "That seemed like a pretty real challenge to an audience. I don't know if there is a greater taboo than an unloving mother."
Oh, and Danes insisted she isn't doing anything special when she breaks out Carrie's famous cry face. "I swear to god it's just what my face does," she said. "It's just how I cry." Knowing Homeland, we'll have plenty more chances to see it next season.
Homeland Season 5 will premiere this fall on Showtime.