Guy Ritchie's 'Knights Of The Round Table' Unveils First Set Photo And Official Synopsis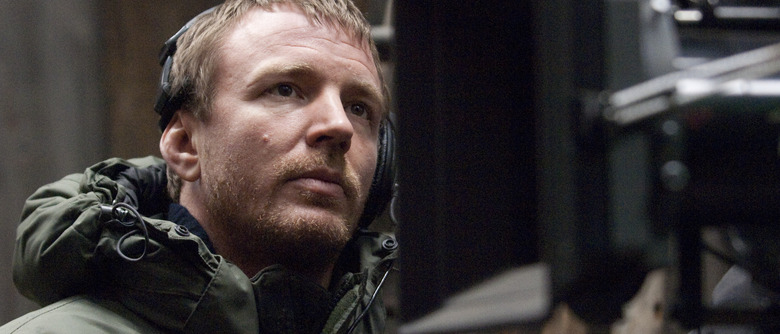 Warner Bros. has lofty ambitions for Knights of the Round Table, with six films planned in all. But every gazillion-dollar franchise begins with a single shot.
Production has just begun on the first Knights of the Round Table film, with Guy Ritchie at the helm and Charlie Hunnam as King Arthur. Today we have our first look from the set, along with the official synopsis from the studio. Take a peek at the Guy Ritchie Knights of the Round Table movie after the jump.
Ritchie tweeted the first photo of himself and Hunnam from the Knights of the Round Table set in the U.K.
Surprise, surprise, this looks like a gritty origin story based on the classic tales. It sounds like it, too. Here's the official synopsis:
The bold new story introduces a streetwise young Arthur who runs the back alleys of Londonium with his gang, unaware of the life he was born for until he grasps hold of the sword Excalibur—and with it, his future. Instantly challenged by the power of Excalibur, Arthur is forced to make some hard choices. Throwing in with the Resistance and a mysterious young woman named Guinevere, he must learn to master the sword, face down his demons and unite the people to defeat the tyrant Vortigern, who stole his crown and murdered his parents, and become King.
(Yes, we know it's spelled Londinium. Blame Warner Bros., who sent out the press release. For all we know, this takes place in an alternate universe where it actually is spelled Londonium.)
Hunnam is the only actor in that particular still, but the cast has a lot of notable names. Astrid Bergès-Frisbey (Pirates of the Caribbean: On Stranger Tides) is Guinevere; Jude Law is villainous Vortigern; Eric Bana is Arthur's dad Uther Pendragon; Djimon Hounsou is Resistance leader Bedivere; and Aidan Gillen is Goosefat Bill.
Warner Bros. has Knights of the Round Table for July 22, 2016.