'Daredevil' Trailer: Daredevil And Kingpin Have A Lot In Common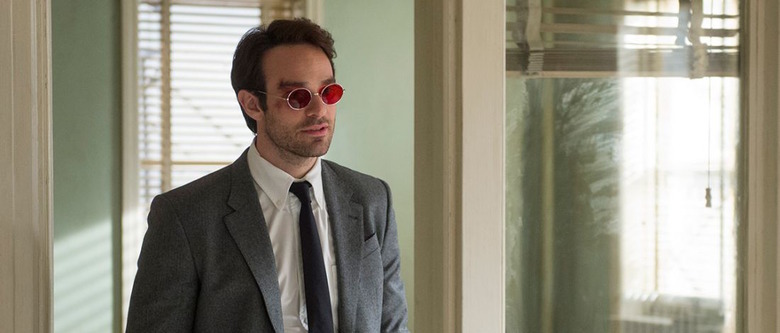 Finish up House of Cards, catch up on Unbreakable Kimmy Schmidt, and prepare to race through Bloodline. You'll want your queue cleared up for next month, when Netflix opens up its own corner of the Marvel universe with Daredevil.
Charlie Cox leads the superhero drama as Matt Murdock, a blind lawyer who depends on his other extraordinary senses to fight crime is a vigilante by night. Of course, he's not the only ones with big plans for Hell's Kitchen — the Kingpin (Vincent D'Onofrio) clearly has a few ideas of his own. Watch the new Daredevil trailer after the jump.
After last month's Daredevil tease, this Daredevil trailer reveals quite a bit more.
[YouTube]
Daredevil looks darker and grittier than some of Marvel's other projects have been. Still, it's not without its flashes of humor. Love the cheeky little reference to the MCU's other crime-fighting heroes: "Maybe if you had an iron suit or a magic hammer..."
Most intriguing is the show's determination to create a villain as complicated as its hero. It's Wilson Fisk, not Matt Murdock, who gets the opening narration about trying to make the city a better place. And it's apparently Matt who has to learn the lesson that "another man's evil does not make you good."
Daredevil comes from executive producers Steven S. DeKnight (Spartacus, Buffy the Vampire Slayer), Drew Goddard (Cloverfield, Lost, Cabin in the Woods), and Jeph Loeb (of Marvel TV). Also starring are Deborah Ann Woll as Karen Page, Elden Henson as Foggy Nelson, Scott Glenn as Stick, Ayelet Zurer as Vanessa, and Rosario Dawson as Claire Temple.
All 13 episodes of Daredevil will hit Netflix on Friday, April 10 at exactly 12:01 AM Pacific time. (Sorry, East Coasters.)
"Marvel's Daredevil" follows the journey of Matt Murdock, who was blinded as a young boy but imbued with extraordinary senses, now fighting against injustice by day as a lawyer, and by night as the super hero Daredevil in modern day Hell's Kitchen, New York City.