Gallery: Robert Rodriguez's SXSW Frank Frazetta Museum; Win A Free Print [CLOSED]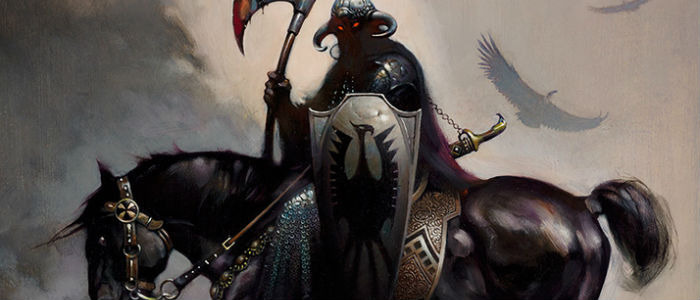 UPDATE: This Contest Has Closed
Even if you aren't heading to South by Southwest this week, you can bring a piece of it home. /Film is proud to be running a giveaway for a limited edition giclee print by legendary fantasy artist Frank Frazetta.
Director Robert Rodriguez, who is currently working on Fire and Ice, a film based on Frazetta's work, is curating a Frank Frazetta Museum that'll be open from March 14 to 21 in Austin, Texas. It features originals and prints of Frazetta's work as well as the work of Drew Struzan, props from Rodriguez's films, pieces from his personal art collection, and much much more.
Below, see a bunch of art from the Frank Frazetta Museum and find out how to enter the contest for a free limited edition Frazetta giclee print.
The Frank Frazetta Museum is open daily from noon to 8 p.m. March 14 through March 21 at 920 Congress Ave. in Austin, TX. There's a $10 entrance fee that'll benefit the preservation of Frank Frazetta art. Here's the show card.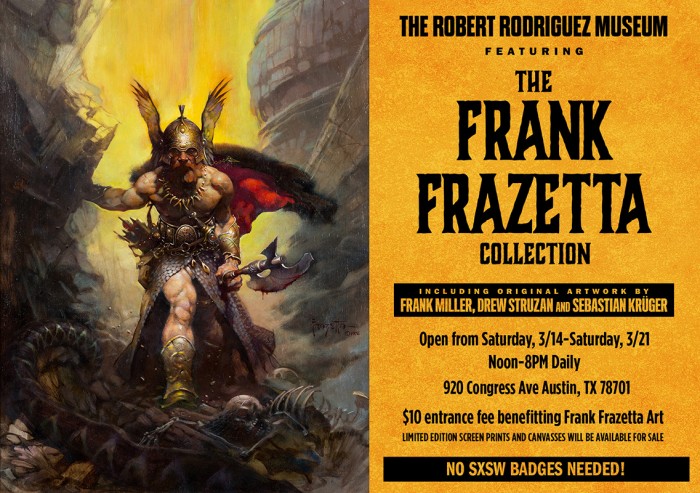 Now the giveaway. Send an email to slashfilmcontest@gmail.com with the subject "FRAZETTA." Include your name, address, phone number and email address. Most importantly, send us an image and brief description of your favorite piece of art you have on your wall. It can be a movie poster, a kids drawing, a painting, something from your home, office, whatever, but send a photo of your favorite. If you don't send a photo (and try and keep the image size small) you will be disqualified. If it looks like you grabbed a JPEG from Google, you will be disqualified. We just want to see that you love art as much as we do and are worthy of this victory.
The winner will be randomly selected (meaning, you won't be judged on your selection so be honest) and receive this beautiful piece, Frank Frazetta's Moon Maid, a 24 x 31 inch limited edition giclee in an edition of 200. The contest ends March 18 at 10 a.m. PST and is limited to U.S. entrants only.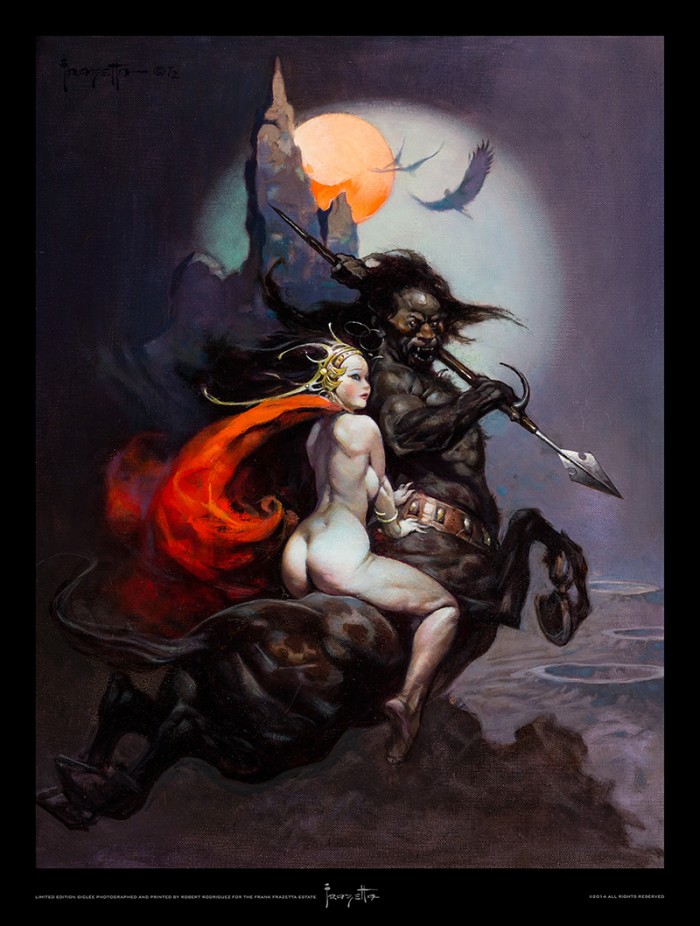 If you can't make the show, here are just a few of the pieces that are on display. Mouse over each for the title.
Finally – the official press release with more information on the show and specifically which pieces will be on display, have prints, etc.
For a limited time only during SXSW 2015, Robert Rodriguez is proud to present a curated collection of original art, including twelve masterwork paintings by iconic artist FRANK FRAZETTA, including original paintings of CONAN THE BARBARIAN and DEATH DEALER. Considered to be the most influential fantasy artist in history, Frazetta contributed iconic artwork to classic works of fiction for Conan the Barbarian, Tarzan and John Carter of Mars among others.Other notable artwork being featured is artwork from the upcoming Rodriguez film "FIRE and ICE" based on the works of Frank Frazetta.The gallery will also feature an original SIN CITY masterpiece by FRANK MILLER, original art by DREW STRUZAN including his rendering of Sylvester Stallone for the movie poster FIRST BLOOD, and original poster art for THE THING. Original paintings by New Pop Art master SEBASTIAN KRÜGER including hyper real paintings of Keith Richards, Mick Jagger and Danny Trejo. Bronzed art sculptures from CLETE SHIELDS. Shields' work has been commissioned by Quentin Tarantino, Kevin Smith, Robert Rodriguez, and Samuel L. Jackson.In addition, the gallery will feature original movie props from Rodriguez's films and painted portraits of characters from Rodriguez's films between Rodriguez himself and his actors including paintings by Josh Brolin, Rosario Dawson, Lady Gaga, Bruce Willis, and Joseph Gordon Levitt. There will also be a selection of hand numbered giclée prints of Frazetta pieces photographed and printed by Robert Rodriguez available for purchase. Proceeds from the prints and merchandise benefit the preservation of Frank Frazetta's art.The idea for the museum has been long in the making. Robert Rodriguez, along with the cooperation of the Frazetta family, has been touring Frank Frazetta original art at Comic Con and Wizard Con to continue the wish of Frank Frazetta, a friend and collaborator of Robert's who always wanted audiences to see his paintings in person. The original Frazetta museum in upstate New York closed after the passing of Frank Frazetta in 2010. The new Rodriguez museum features other world class artists Robert has also worked with and studied under over the years, with art that he's collected himself, and others that are on exclusive loan for this event. The FRANK FRAZETTA COLLECTION has an unprecedented amount of original masterpieces including Death Dealer 2, Egyptian Queen, At the Earth's Core, Conan Man Ape and Dark Kingdom, as well a rare original painting Frazetta did for the movie FROM DUSK TIL DAWN among others, 12 original masterpiece paintings total."I'm extremely excited to host this very special event at South by Southwest, featuring mind-blowing art by my favorite artists and collaborators," said filmmaker Robert Rodriguez. "It's the only place in the world where you can see original Frank Frazetta art, twelve masterpiece paintings total, alongside original art by Frank Miller, Drew Struzan, Sebastian Kruger and Clete Shields.Frank Frazetta Original Artwork On Display:DEATH DEALER 2CONAN MAN APEAT EARTH'S COREFROM DUSK TIL DAWNFIRE AND ICEDARK KINGDOMEGYPTIAN QUEENNORSEMANA REQUIEM FOR SHARKSNEANDERTHALFRANK FRAZETTA SELF PORTRAITHand Numbered Giclee Prints Available for Purchase:FIRE AND ICESize: 24 x 37"Edition Size: 100. 17 prints are available for purchase at SXSW gallery.FROM DUSK 'TILL DAWNSize: 24 x 32"Edition Size: 100. 37 prints are available for purchase at the SXSW gallery.CONAN CHAINEDSize: 24 x 30"Edition Size: 100. 67 prints are available for purchase at SXSW gallery.DEATH DEALERSize: 24 x 36"Edition Size: 300. 43 prints are available for purchase at SXSW gallery.MOON MAIDSize: 24 x 31"Edition Size: 200. 47 prints are available for purchase at SXSW gallery.AT EARTH'S CORESize: 24 x 34"Edition Size: 200. 53 prints are available for purchase at SXSW gallery.CONAN THE BARBARIANSize: 24 x 34"Edition Size: 300. 24 prints are available for purchase at SXSW gallery.Limited edition gallery standard reproductions on canvas:FIRE AND ICECHAINEDMOON MAIDDUSK TIL DAWNThe gallery will be open to the public daily starting Saturday, March 14th – Saturday, March 21st from Noon – 8 pm. The museum is located at 920 Congress Ave. in Austin, TX. The gallery will have a $10 entrance fee benefiting the preservation of Frank Frazetta art.