Jeremy Renner's Hawkeye Will Appear In 'Captain America: Civil War'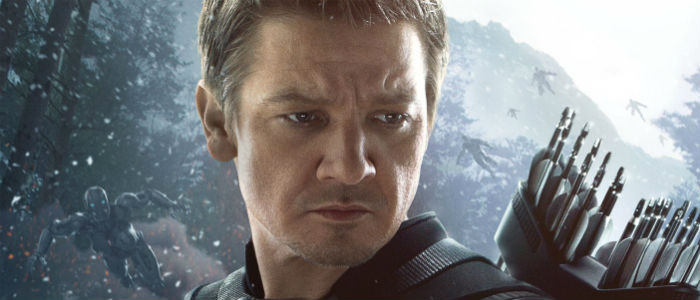 Expert archer Hawkeye was missing in action during Phase Two of the Marvel Cinematic Universe, but we're about to get a double dose. Of course, we know he's got a major role in Avengers: Age of Ultron out in May. And while he won't appear in the subsequent Marvel film, Ant-Man, there's now evidence he'll appear in Captain America: Civil War, which will be out in May 2016.
Jeremy Renner's character joins an already jam-packed superhero cast that includes Captain America (Chris Evans), Iron Man (Robert Downey Jr.), Black Widow (Scarlett Johansson), Falcon (Anthony Mackie), Black Panther (Chadwick Boseman) and probably even Spider-Man. Read more about Hawkeye Captain America 3 below.
The Hawkeye Captain America 3 news was reported by the Hollywood Reporter. In a casting story for another Renner role, they mention he'll be filming Captain America: Civil War this Spring. Previously, there were rumblings that he'd appear but this is our first legitimate evidence.
The role Hawkeye will play in the film, however, remains a mystery. Much of that will hinge on what the character goes through in Avengers: Age of Ultron and how/where he ends up at the end of that movie. You'd have to imagine his previous military commitments will put him on the side of Captain America during the Civil War, but maybe that changes for him in Ultron. We'll know more in a few weeks.
Out of every Marvel character carrying over from Phase One, Hawkeye is definitely the most mysterious at this juncture. Neither he nor Hulk appeared in any of the films leading up to Avengers: Age of Ultron, but at least Bruce Banner had a brief post-credits cameo in Iron Man 3. We have no idea where Hawkeye went or what he's been doing since the Battle of New York.
Captain America: Civil War, directed by the Russo Brothers, opens May 6, 2016.
Are you excited to find out more about Hawkeye? How do you think he'll fit into Civil War?