Jada Pinkett Smith Says She's Leaving 'Gotham' After Season One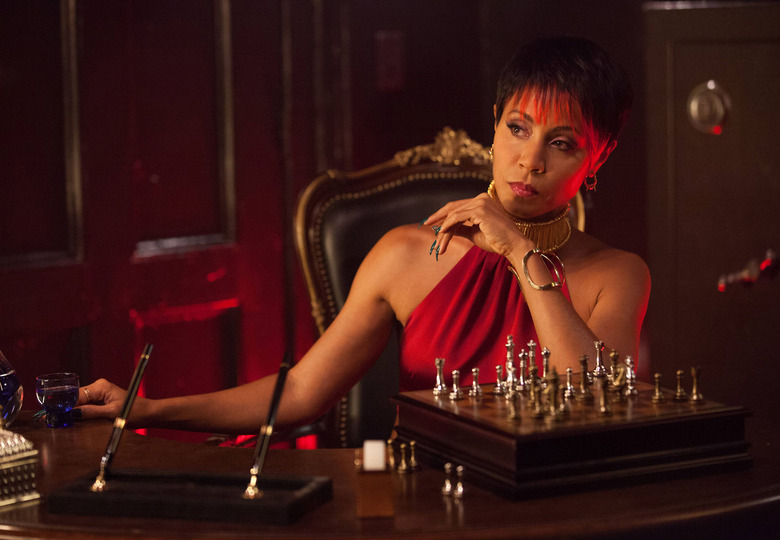 One thing we know about Gotham is most of the characters are going to survive. The show has to endure long enough for a young Bruce Wayne to grow up, become Batman, and then tangle with characters like Penguin, Catwoman, Poison Ivy and the Joker. Any mystery the show has revolves either in how that will all play out, or in new characters not previously seen in comic books or movies.
The most prominent new character in the show's first season is Fish Mooney, played by Jada Pinkett Smith. She's a major new villain specific to the show who looked to have a long future in Gotham. In a new interview, however, Pinkett-Smith said she's not likely to return to Gotham after this season. Read the Jada Pinkett Smith Gotham Season 2 quotes below.
The actress said this on a recent appearance on Live with Kelly and Michael (via Variety). She was asked if she was coming back for Gotham season two:
I don't think so, no. I signed for a year and the year is up. But, there are some great things coming ahead on 'Gotham,' believe you me, there's a lot of good stuff coming.
However, this doesn't necessarily mean Mooney dies. Host Michael Strahan surmised that the character could pop up anywhere to which the actress replied:
She could show up anywhere, you never know.
Variety also got in touch with the show's producers, who released this vague statement:
Fish Mooney's storyline takes a lot of interesting twists and turns into the finale of season one of Gotham.
To be honest I'm not watching Gotham. I hear good things about Gotham, but I never felt the urge to delve too deep into this world once the show made it clear it was more interested in set-up than execution. At least, that's how it felt from the outside looking in. Many young versions of classic characters being introduced with Batman still a decade away? That feels like a lot of wheel-spinning for me, and a new character like Mooney seemed designed to facilitate that. But if Jada Pinkett-Smith is leaving the show, who can now be set into that unpredictable, story driving role?