'The Forger' Trailer: John Travolta And His Terrible Wig Pull Off An Impossible Heist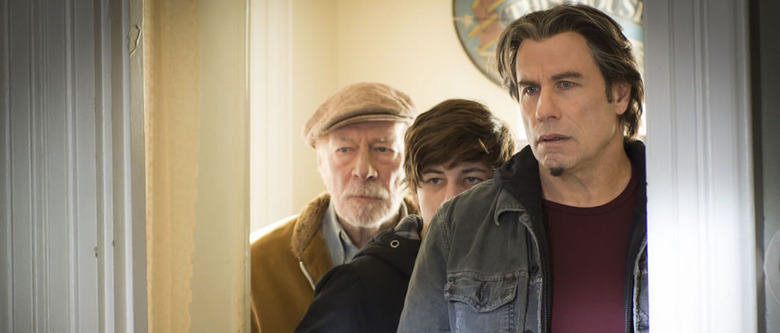 John Travolta could probably use a win right about now. Unfortunately, it doesn't look like his next film will be it. The Forger stars Travolta as a thief tasked with replicating a painting by Claude Monet, so that he can make off with the original.
He's abetted by his father (Christopher Plummer) and son (Tye Sheridan), and hampered by the truly terrible wig atop his head. Seriously, who's going to believe this guy can forge a Monet when he can't even convincingly fake his own hair? Watch The Forger trailer after the jump. 
Yahoo debuted The Forger trailer.
By far the worst thing about The Forger trailer is that wig. It's genuinely distracting in its awfulness. The best scenes are the ones where Travolta is wearing a hat, because they're the only ones that offer some respite from that atrocity.
But the rest of it doesn't seem so hot, either. The Forger looks like a gritty crime drama, a sentimental family comedy, and a slick heist film rolled into one. And not in a good way — the tone seems to be all over the place. Critics weren't much into The Forger when it debuted at Toronto last year, calling it "contrived," "unpersuasive," and "uninspired."
The Forger also stars Abigail Spencer, Anson Mount, and Jennifer Ehle. Philip Martin directed. It'll hit DirecTV on March 26 before going to VOD and theaters April 24.
The world's best art forger (John Travolta) makes a deal with a crime syndicate to get an early release from prison, but in return he must pull of an impossible heist – he must forge a painting by Claude Monet, steal the original from a museum and replace it with a replica so perfect that no one will notice. He enlists the help of his father (Christopher Plummer) and son (Tye Sheridan) and together they plan the heist of their lives!