'The Russian Woodpecker' Trailer: Chernobyl Conceals Incredible Secrets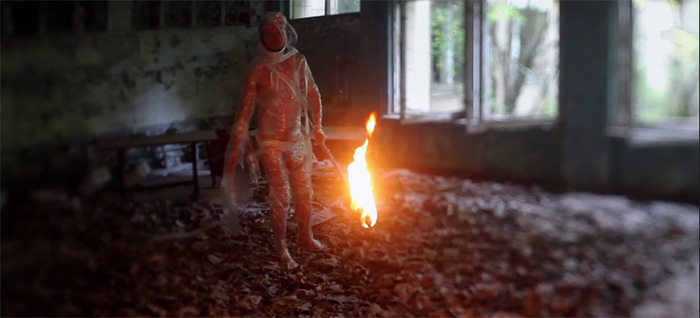 What if the story behind the 1986 nuclear meltdown at Chernobyl in Ukraine was far more sinister than we ever thought? The documentary The Russian Woodpecker is named after the Duga, a gigantic radio-transmitter wall that produces a pecking sound, and that technology is just one of many objects of fascination for a Ukranian artist who is obsessed with the cause and effect of the Chernobyl disaster.
The film follows as he looks into the history of the site and its surroundings, and comes to some absolutely crazy conclusions. Everyone I talked to who saw this doc at Sundance loved it, and I deeply regret missing it. So would someone buy this movie already, so we can all see it? In the meantime, you can watch The Russian Woodpecker trailer below.
As far as we know there's no release plan for The Russian Woodpecker yet, which is a damn shame.
A Ukrainian victim of the Chernobyl nuclear disaster discovers a dark secret and must decide whether to risk his life by revealing it, amid growing clouds of revolution and war.
Want more info than that? Since the trailer doesn't offer much, here's the Sundance writeup:
Young, eccentric Ukrainian artist Fedor Alexandrovich was just four years old when the Chernobyl disaster struck, but the event had a profound effect on him. In seeking to learn more about what happened at the nuclear plant, Fedor becomes fascinated with the Duga—a massive, Soviet-constructed radio antenna near the Chernobyl site that remains shrouded in mystery.
Fedor discovers the Duga was one of the USSR's secret Cold War weapons built to penetrate Western communications systems and, possibly, minds. He arrives at a terrifying conclusion that not only explains the radio antenna's role in the disaster but also lays bare the cruelty inflicted on Ukraine by its Russian neighbors. Fedor must decide if he will protect his family and himself, or tell the world what he believes. In the package of a paranoid thriller, The Russian Woodpecker takes us to the frontlines of the Revolution, and gives us the history and context for the war between Russia and the Ukraine, a battle that will have ramifications for the whole world.