'Furious 7' Extended Look Features Some Innovative Skydiving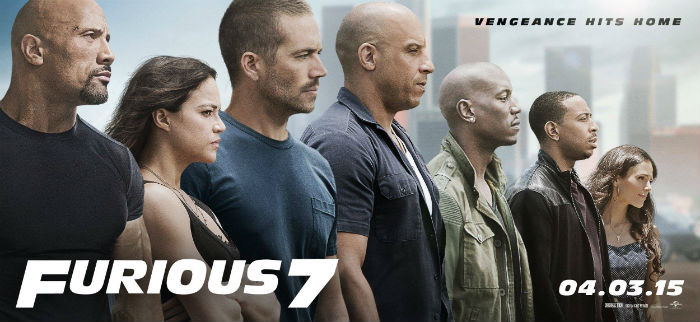 I'd imagine you know everything you need to know about Furious 7 before hitting the theater in April. It's the late Paul Walker's last film, and it reunites much of the rest of the cast of the last few films and also brings in some new blood for a story about family (of course) and vengeance. Tonight a Furious 7 extended look went online, giving us a big excerpt of a scene that shows just how big and crazy this movie wants to go. Check it out below.
There's also a new poster, and it's a pretty great one-sheet — trouble is, we've only got a medium-sized version of it right now.
Pretty much everything the series is known for is right in that clip — the camaraderie between characters, the cars, and the ever-escalating action. At this rate, the tenth film is going to have to be set on Mars to keep upping the ante on action.
Furious 7 opens in theaters and IMAX on April 3. Footage via Universal.
Continuing the global exploits in the unstoppable franchise built on speed, Vin Diesel, Paul Walker and Dwayne Johnson lead the returning cast of Fast & Furious 7. James Wan directs this chapter of the hugely successful series that also welcomes back favorites Michelle Rodriguez, Jordana Brewster, Tyrese Gibson, Chris "Ludacris" Bridges, Elsa Pataky and Lucas Black. They are joined by international action stars new to the franchise including Jason Statham, Djimon Hounsou, Tony Jaa, Ronda Rousey and Kurt Russell. Neal H. Moritz, Vin Diesel and Michael Fottrell return to produce the film written by Chris Morgan.