The Ultimate Marvel Marathon Is Happening: 29 Hours, 11 Movies, One Sitting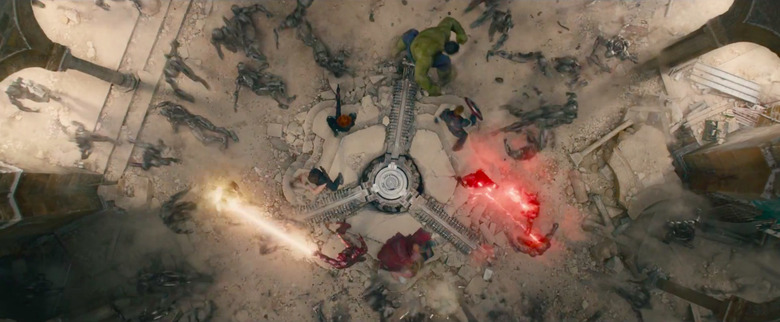 Do you have 27 hours to spare before Avengers: Age of Ultron hits theaters? If so, take a shower, bring a blanket and get ready for the Ultimate Marvel Marathon: a 29 hour, 11 movie marathon that begins at 6pm April 29 with Jon Favreau's Iron Man and goes until around 10pm April 30 with an early screening of Avengers: Age of Ultron. AMC and Regal are each hosting similar events and you can read more below.
Here are the links to info for the Ultimate Marvel Marathon at AMC and Regal. Not all locations and tickets are on sale, but that's where you'll find the info. It looks like the ticket is $65 per person, which breaks down to just under $6 bucks a movie.
Here's the tentative schedule for the Ultimate Marvel Marathon:
6:00pm IRON MAN
8:25pm THE INCREDIBLE HULK
10:35pm IRON MAN 2
1:00am THOR
3:10am CAPTAIN AMERICA: THE FIRST AVENGER
5:30am THE AVENGERS
8:48am IRON MAN 3
11:15am THOR: THE DARK WORLD
1:45pm CAPTAIN AMERICA: THE WINTER SOLDIER
4:20pm GUARDIANS OF THE GALAXY
7:00pm AVENGERS: AGE OF ULTRON (RealD® 3D)
Here's the poster for the Regal version of the event. AMC has one too, but it's much smaller.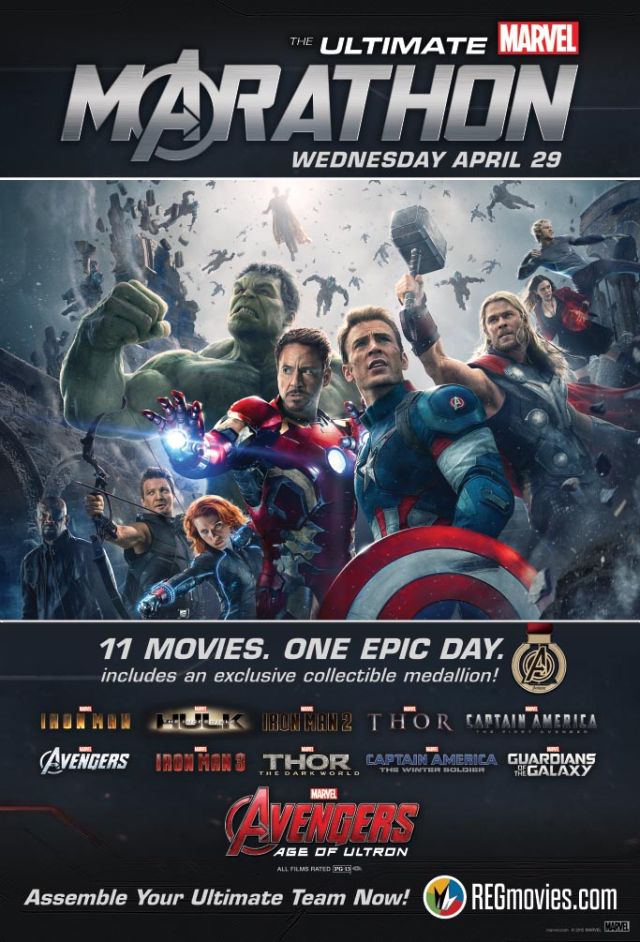 Also of note, several theaters are hosting double features of The Avengers and Avengers: Age of Ultron which is cool, I guess, but really you should watch Captain America: The Winter Soldier before Age of Ultron. That would be a more cohesive link. But I understand the obvious booking of the first film and its sequel back to back.
Marvel Studios presents "Avengers: Age of Ultron," the epic follow-up to the biggest Super Hero movie of all time. When Tony Stark tries to jumpstart a dormant peacekeeping program, things go awry and Earth's Mightiest Heroes, including Iron Man, Captain America, Thor, The Incredible Hulk, Black Widow and Hawkeye, are put to the ultimate test as the fate of the planet hangs in the balance. As the villainous Ultron emerges, it is up to The Avengers to stop him from enacting his terrible plans, and soon uneasy alliances and unexpected action pave the way for an epic and unique global adventure.
Marvel's "Avengers: Age of Ultron" stars Robert Downey Jr., who returns as Iron Man, along with Chris Evans as Captain America, Chris Hemsworth as Thor and Mark Ruffalo as The Hulk. Together with Scarlett Johansson as Black Widow and Jeremy Renner as Hawkeye, and with the additional support of Samuel L. Jackson as Nick Fury and Cobie Smulders as Agent Maria Hill, the team must reassemble to defeat James Spader as Ultron, a terrifying technological villain hell-bent on human extinction. Along the way, they confront two mysterious and powerful newcomers, Wanda Maximoff, played by Elizabeth Olsen, and Pietro Maximoff, played by Aaron Taylor-Johnson, and meet an old friend in a new form when Paul Bettany becomes Vision. Written and directed by Joss Whedon and produced by Kevin Feige, Marvel's "Avengers: Age of Ultron" is based on the ever-popular Marvel comic book series "The Avengers," first published in 1963. Get set for an action-packed thrill ride when The Avengers return in Marvel's "Avengers: Age of Ultron" on May 1, 2015.