MGM Options 'Mrs. Frisby And The Rats Of NIMH' For New Adaptation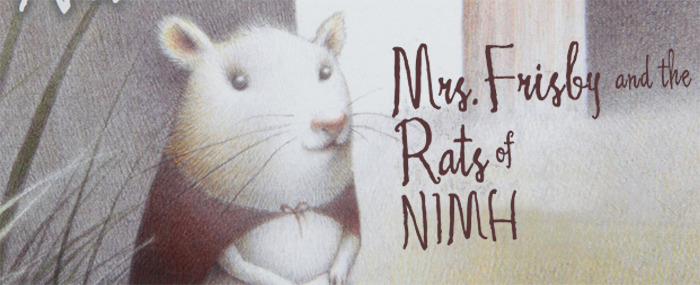 The children's book Mrs. Frisby and the Rats of NIMH has been adapted to film once before. When Don Bluth and his compatriots broke away from Disney to form their own animation studio in the late '70s their first feature effort was The Secret of NIMH, which adapted the book. (And did so pretty liberally in some ways.) Now MGM has picked up rights to Robert C. O'Brien's book, and plans a new hybrid live-action/animated Rats of NIMH series.
reports that Ice Age 5 writer Michael Berg has been hired to script under producers Daniel Bobker and Ehren Kruger. The most surprising bit is that this won't be done as an all-animated affair, but will be a Smurfs-style live-action/CGI hybrid.
The first film will reportedly be "an origin story in which an imperiled mouse protagonist befriends a comical crew of lab rats as they turn hyper-intelligent. They escape a secret laboratory and become the great minds of vermin civilization, forced to outwit the humans hot on their tails."
That's more or less the plot of O'Brien's book, which was followed by two more novels written by his daughter Jane Leslie Conly. (Don Bluth's movie was also followed by a sequel, with which he was not involved at all.)
The idea here is, of course, for a franchise, but we don't know if the later films would follow the sequel novels, or strike off on their own path.
Some extraordinary rats come to the aid of a mouse family in this Newbery Medal Award-winning classic by notable children's author Robert C. O'Brien. Mrs. Frisby, a widowed mouse with four small children, is faced with a terrible problem. She must move her family to their summer quarters immediately, or face almost certain death. But her youngest son, Timothy, lies ill with pneumonia and must not be moved. Fortunately, she encounters the rats of NIMH, an extraordinary breed of highly intelligent creatures, who come up with a brilliant solution to her dilemma. And Mrs. Frisby in turn renders them a great service.