'The Hunger Games Mockingjay Part 1' Making Of Documentary: Watch An Exclusive Clip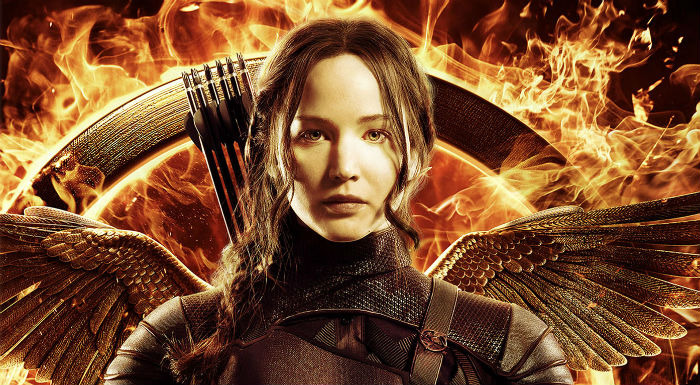 Why have you been seeing so much virtual ink on The Hunger Games: Mockingjay Part 1? Well, it's currently available on Digital HD and the Blu-ray arrives on Friday, March 6. When the biggest movie of the year comes home, people are excited. And with that excitement, /Film is happy to exclusively debut a short clip from the two hour behind the scenes documentary included on that release. It's called The Mockingjay Lives: The Making of Mockingjay ­Part 1 and features "never-before-seen interviews and on-set footage of the cast and crew, taking an in-depth look at the making of the film including the script adaptation, location scouting, set design including physically creating the hovercraft ­casting the new characters, and bringing District 13 to life."
That last bit is the focus of our clip. It shows some of the incredible planning and preparation that went into building what is basically the film's entire set – the underground fortress of District 13. Director Francis Lawrence explains how the planning was well under way while they were still shooting The Hunger Games: Catching Fire and a bunch of the influences and research that went into the massive sets.
Below, watch our exclusive Hunger Games Mockingjay making of clip.
Here's the clip, courtesy of Lionsgate.
Hunger Games Mockingjay Making of Clip
You can see the rest of the clip – the other 119 minutes basically – on The Hunger Games: Mockingjay – Part 1 Blu-ray on March 6. Here's a break down of the different editions and special features:
DIGITAL HD SPECIAL FEATURES
"The Mockingjay Lives: The Making of Mockingjay – Part 1": 8-part feature-length documentary
"Straight From the Heart: A Tribute to Philip Seymour Hoffman" featurette
"Songs of Rebellion: Lorde on Curating the Soundtrack" featurette
"Yellow Flicker Beat" – Lorde music video
Deleted Scenes
Audio Commentary with Director Francis Lawrence and Producer Nina Jacobson
Sneak Peek of The Divergent Series: Insurgent
BLU-RAY COMBO PACK SPECIAL FEATURES
"The Mockingjay Lives: The Making of Mockingjay – Part 1": 8-part feature-length documentary
"Straight From the Heart: A Tribute to Philip Seymour Hoffman" featurette
"Songs of Rebellion: Lorde on Curating the Soundtrack" featurette
"Yellow Flicker Beat" – Lorde music video
Deleted Scenes
Audio Commentary with Director Francis Lawrence and Producer Nina Jacobson
Sneak Peek of The Divergent Series: Insurgent
DVD SPECIAL FEATURES
Audio Commentary with Director Francis Lawrence and Producer Nina Jacobson
Deleted Scenes
Sneak Peek of The Divergent Series: Insurgent