New Steven Spielberg And Tom Hanks Film Titled 'Bridge Of Spies,' John Williams Confirmed To Score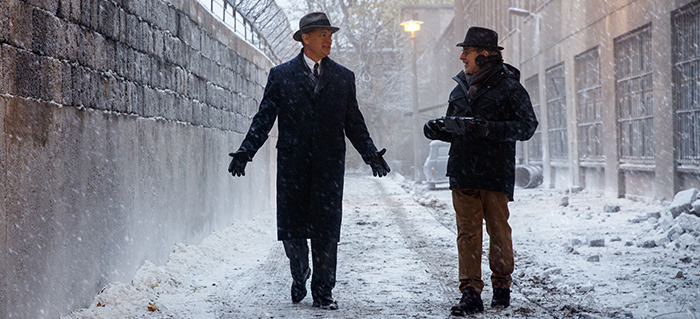 The new Steven Spielberg film, which reunites the director with star Tom Hanks, was referred to early on as the "Untitled Cold War Thriller," and then shot under the title St. James Place. But when released in theaters, the movie will be called Bridge of Spies — a more colorful title, to be sure, and one which has its own place in cold war history.
Additionally, John Williams has been confirmed to provide the score for the film, marking the latest collaboration in his long-running partnership with Spielberg.
The title was first confirmed by producer Marc Platt, in an interview with The Daily Pennsylvanian. He simply said "I have a film directed by Steven Spielberg starring Tom Hanks coming out called Bridge of Spies."
And John Williams fan site JWFN.com has confirmed with the composer's agency that he will write the score to this film, making it his 27th collaboration with Steven Spielberg.
The film's title refers to a real bridge that links the outer reaches of former West Berlin to the city center of Potsdam, previously under the control of East Germany. It was dubbed the "bridge of spies" in the '60s as American and Soviet intelligence organizations performed prisoner exchanges on its expanse.
Officially named the Bridge of Unity, it was eventually re-named Glienicke Bridge in the mid-'80s. The bridge has been seen in other films, and Spielberg's production used it as a location for this movie.
The film tells the story of the first prisoner exchange on the bridge that led to its colloquial name, as it follows attempts by lawyer James Donovan (Hanks) to negotiate the release of pilot Francis Gary Powers after his plane was shot down in the Soviet Union.
Bridge of Spies was originally written by Matt Charman, with rewrites by Joel Coen and Ethan Coen. The cast also features Mark Rylance, Amy Ryan, Alan Alda and Eve Hewson. It will be released by Disney's Touchstone banner on October 16, 2015.