Sarah Michelle Gellar Joins 'Star Wars Rebels'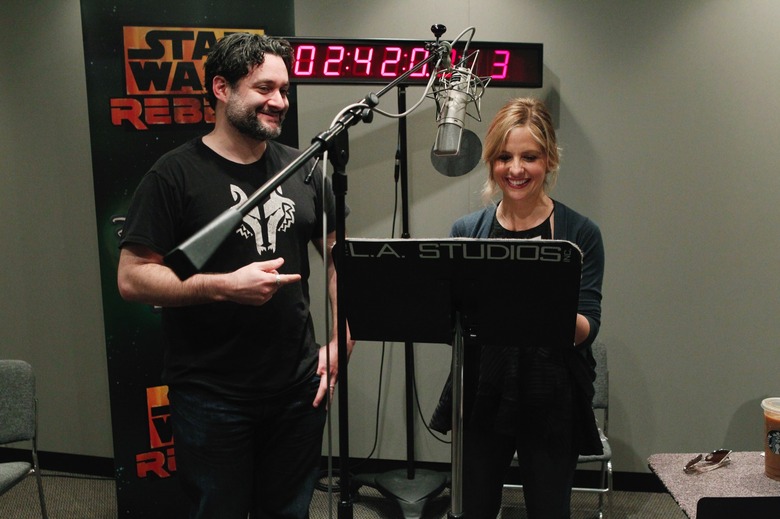 Disney has announced that Sarah Michelle Gellar (Buffy The Vampire Slayer) is joining the voice cast of Star Wars Rebels. Gellar will be joining her husband Freddie Prinze Jr. for the second season of the Disney XD animated series. No word on what Gellar's role may be in the show, but we do know that its a recurring role and not a guest appearance. Hit the jump to read the full Sarah Michelle Gellar Star Wars Rebels press release.
(Note that a spoiler for the first season finale of Star Wars Rebels is in the last two paragraphs of the release.)
Sarah Michelle Gellar Star Wars Rebels Press Release
SARAH MICHELLE GELLAR TO STAR IN SEASON 2 OF "STAR WARS REBELS"
In the hours after the "Star Wars Rebels" season finale aired on Disney XD, its executive producer/supervising director Dave Filoni revealed that actress Sarah Michelle Gellar ("The Crazy Ones," "Buffy the Vampire Slayer") will join the voice cast in a recurring role for season two of the animated series. Filoni discussed the casting news with advertising clients convened at Lucasfilm's San Francisco headquarters for Disney Media Sales and Marketing's presentations.
Filoni said, "We're thrilled to have Sarah Michelle Gellar on board for season two. She is a true 'Star Wars Rebels' fan and her passion undoubtedly comes through in the voice recording sessions."
Sarah Michelle Gellar will join the talented voice cast that includes her husband Freddie Prinze Jr., Vanessa Marshall, Steve Blum, Tiya Sircar, Taylor Gray and David Oyelowo.
The popular "Star Wars Rebels" series has reached over 49 million Total Viewers, 5.6 million Boys 6-11 and 10.9 million Kids 6-11. Its season finale revealed the identity of Fulcrum to be Ahsoka Tano. The storyline will continue into season two.
Continuing the epic tradition of the legendary Star Wars saga, "Star Wars Rebels" unfolds between the events of Star Wars Episodes III and IV and tells the story of the motley but clever crew of the starship Ghost who together face threatening new villains, encounter colorful adversaries and embark on thrilling adventures. In its second season, "Star Wars Rebels" will feature recurring appearances by fan-favorite characters including Darth Vader and Ahsoka Tano.