'Nerd Court' Trailer: Get An Exclusive Look At Season 1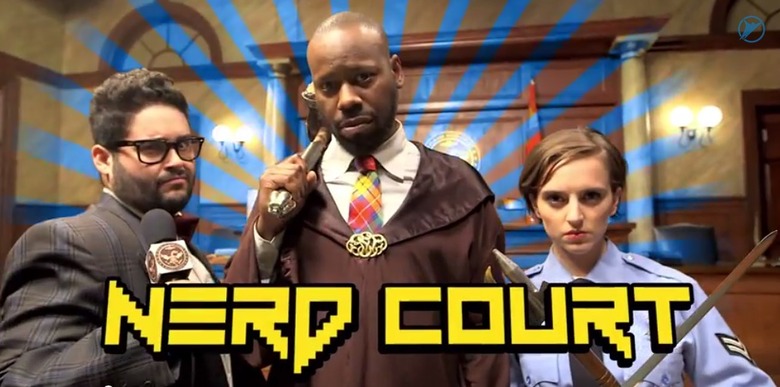 Today Skybound is launching their new web series Nerd Court. The brainchild of Star Wars spin-off screenwriter Gary Whitta (you probably know way too much about this guy after our interview feature last week) which brings two geeks into the courtroom to plead their case in a too-nerdy-for-television argument. I got a chance to visit the set a couple months back, and it is in some ways a send-up of the courtroom reality shows that clog daytime television, but with topics you might actually find amusing. Skybound gave us the exclusive Nerd Court trailer to premiere, which you can watch after the jump.
Here is a behind the scenes photo I instagramed from the set in early December featuring director Adam Stein (right) and executive producer/creator Gary Whitta (bottom left):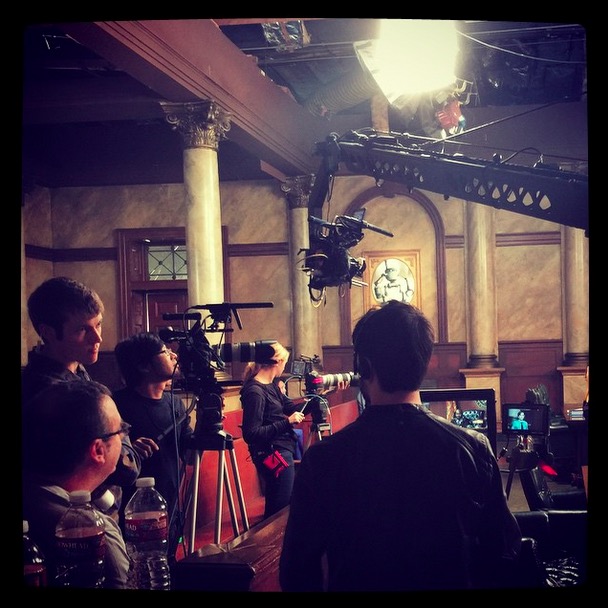 I was on set for a trial involving Star Trek, which saw Jonathan Frakes (William T. Riker himself from Star Trek: The Next Generation) make a special appearance as a surprise witness. What I saw looked like a lot of fun. My only worry is that some of the scripted bits might overshadow the awesome geekiness of the real arguments.
Nerd Court is directed by Adam Stein, who you might remember from the Spielberg-produced On the Lot filmmaking reality series:
"We had an amazing time on set with some very funny nerds who brought their full passion to the cases. The debates are real, and wrapped in this fun parody of traditional courtroom shows. But there are also unexpected and mind-bending twists; we wanted Nerd Court to feel like a place where anything can happen, from time-travel paradoxes and magic spells, to surprise visits from fictional characters and geek superstars."
And of course we got a quote from Nerd Court creator/executive producer Gary Whitta:
"I've always felt that fans of science fiction, fantasy, comics, and video games needed their own dedicated specialist legal forum in which to debate and settle the issues that so often divide us, and Nerd Court was created to fill that void. These first episodes were a ton of fun to make and I hope we get to do more. There are potentially limitless cases out there for our crack legal team to help adjudicate once and for all."
Nerd Court Trailer
The first episode (Batman v Superman) launches today, and can also be streamed below: