'Ex Machina' Trailer: Two New 'Star Wars' Stars Play With A Robot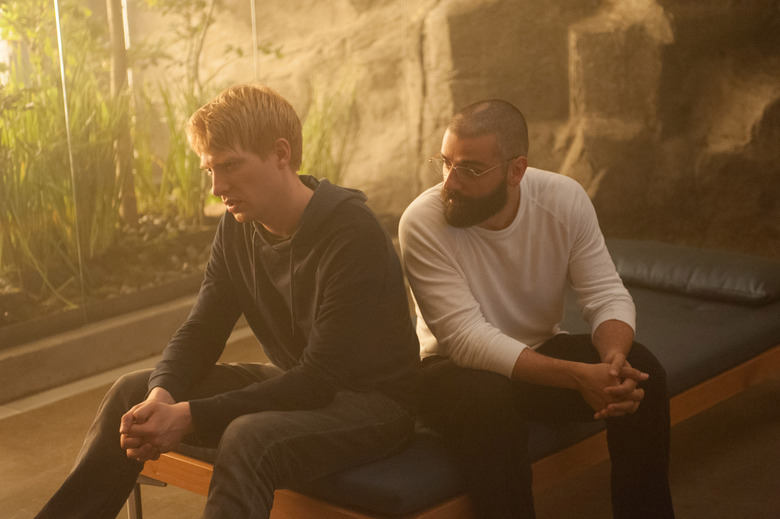 Before Oscar Isaac and Domhnall Gleeson go gallivanting about some galaxy far, far away, they'll be tangling with robots right here on planet Earth. Alex Garland's Ex Machina has Gleeson playing Caleb, a programmer selected to help his company's CEO Nathan (Isaac) test his new artificial intelligence experiment Ava (Alicia Vikander).
At first all seems well, with Ava impressing both men. But as in every AI movie ever made, things don't quite turn out the way the guys expected. Watch the new Ex Machina trailer after the jump.
A24 unveiled the Ex Machina trailer on YouTube. It seems to give more away than the last one did, but since we haven't seen this film yet we can't say for sure whether anything here is a big spoiler.
Garland already has practice crafting compelling sci-fi stories as the writer of 28 Days Later..., Sunshine, Never Let Me Go, and Dredd, but Ex Machina marks his directorial debut. Based on the trailer, it looks like he's learned a thing or two about style from the directors of his other scripts.
The film also promises to be a star-making turn for Vikander, a Swedish actress who's been on the verge of breaking out for quite some time now. (Gleeson and Isaac look good too, but with Star Wars: The Force Awakens coming up later this year, they don't really need more help breaking through.)
Ex Machina has already premiered in Europe to excellent reviews, so we should be in for a treat when it finally hits our shores. It'll make its U.S. debut at SXSW before landing in theaters April 10.
Alex Garland, writer of 28 Days Later and Sunshine, makes his directorial debut with the stylish and cerebral thriller, EX MACHINA. Caleb Smith (Domhnall Gleeson), a programmer at an internet-search giant, wins a competition to spend a week at the private mountain estate of the company's brilliant and reclusive CEO, Nathan Bateman (Oscar Isaac). Upon his arrival, Caleb learns that Nathan has chosen him to be the human component in a Turing Test—charging him with evaluating the capabilities, and ultimately the consciousness, of Nathan's latest experiment in artificial intelligence. That experiment is Ava (Alicia Vikander), a breathtaking A.I. whose emotional intelligence proves more sophisticated, seductive––and more deceptive––than the two men could have imagined.