Cool Stuff: Hot Toys Hulkbuster From 'Avengers: Age Of Ultron;' Now With Interior Photos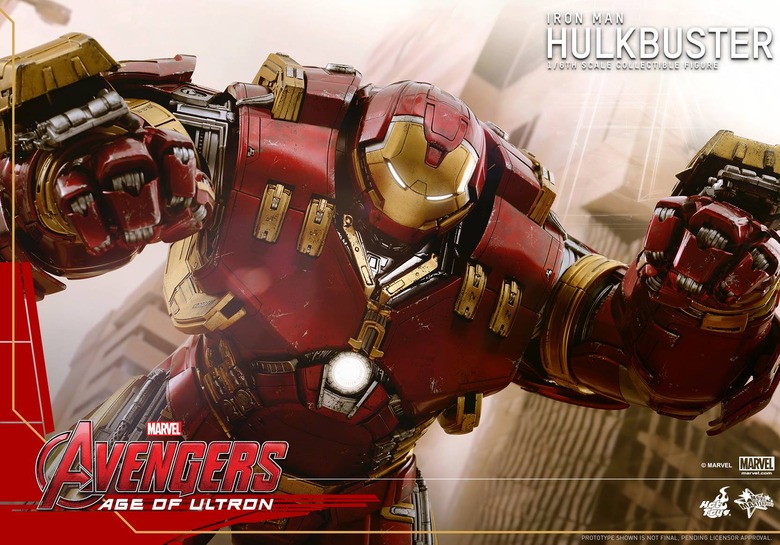 UPDATE: Hot Toys has uploaded some interior photos of this set, which show Iron Man himself. See them below.
When Avengers: Age of Ultron hits theaters, there are sure to be some characters and surprises fans will want to take home with them. But based on the trailers and early buzz, the most take-home worthy character or outfit has got to be the Hulkbuster, a suit Iron Man wears to try to handle Bruce Banner when he becomes the Hulk. The circumstances of this showdown, in terms of the narrative, are still relatively mysterious but the suit itself has already become a symbol of how Joss Whedon is taking things to a new level in the sequel.
Hot Toys – the world's foremost creator of high end scaled collectibles – have just revealed their Hulkbuster toy. It's an almost perfect replica of what you'll see in theaters on May 1. Check out the Hot Toys Hulkbuster images below.
Thanks to the Hot Toys Facebook for the images
Hot Toys Hulkbuster
Here's the official description of the collectible. It's now available for pre-order and costs $825.
This is the Iron Man armor you have been waiting for!
Ever since the first official appearance of the massive anti-Hulk Iron Man suit, Hulkbuster, in Marvel's Avengers: Age of Ultron trailer, fans worldwide have been filled with excitement! Its fight against Hulk is an unforgettable moment from the clip and pushes the popularity of the huge machine to a new level even before the movie launch!
Today, we are proud to officially introduce the collectible figure that many fans and collectors have been longing for – the spectacular 1/6th scale Hulkbuster Collectible Figure!
The movie-accurate collectible figure is specially crafted based on the image of Hulkbuster in Avengers: Age of Ultron. This colossal figure stands approximately 55 cm (21 inches) tall, featuring a Mark XLIII bust inside the Hulkbuster with LED light-up eyes and arc reactor on chest. The metallic red, gold and silver armor with weathering effect, and over 16 LED light-up areas located in the eyes, chest, repulsor palms, back, and legs.
Prepare to make room for this gigantic machine in your Avengers: Age of Ultron collection!
UPDATE: Here are some new photos of the interior of the suit, which shows Iron Man inside of this larger Iron Man suit. That's pretty unexpected, no? Or maybe not – they need some way to get energy to power this suit.