Star Wars Bits: Do Kanan And Ezra Have To Die? Plus Iko Uwais, Lando And Force Awakens Books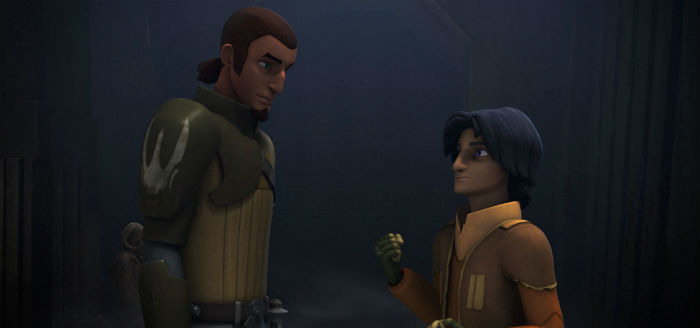 A fascinating answer to one of Star Wars Rebels' biggest questions headlines this latest edition of Star Wars Bits. In addition, below you can read about the following:
Billy Dee Williams might appear in Star Wars Episode VIII.
Iko Uwais has a "significant" role in Star Wars: The Force Awakens.
The rumor of a character name in The Force Awakens once again pops up.
Rumored titles of books tied to The Force Awakens have been revealed as well as the release plans.
Read a new excerpt to Star Wars: Heir to the Jedi.
Watch a clip from the Star Wars Rebels finale.
Dave Filoni breaks down season one of Star Wars Rebels and answers the big question, do Kanan and Ezra have to die?
Personally, I still think it's odd if Billy Dee Williams doesn't appear as Lando Calrissian in Star Wars: The Force Awakens. But the more we hear about it, the more it seems unlikely. Recently, Williams did hint he might appear in a later film and now the Boston Herald is reporting he'll appear in Star Wars Episode VIII, directed by Rian Johnson. Take that with a grain of salt.
Buried in the news of The Raid and The Raid 2 star Iko Uwais' new film was this very curious sentence from Variety. "Uwais also looks to be a star on a rise following his break-out performance in The Raid and The Raid 2,  where he also served as fight choreographer. That performance caught the eye of J.J. Abrams, who later cast him in a significant role in Star Wars: The Force Awakens."
The use of the word "significant" is curious considering what we'd heard before that was he possibly choreographed one fight scene. Maybe we'll learn more when we see a new trailer.
Up to this point, we only know the names of a few of the new characters in The Force Awakens. We do know that actress Maisie Richardson-Sellers is in the film, and back in October someone noticed a character name popped up for her on IMDB. The name was Korr Sella. That rumor has once again gained some traction because of a discovery on her Spotlight page. Did they just copy the IMDB or do they know something? We don't know. 
Jedi Bibliothek (via Star Wars 7 News) reports titles of three books tied to The Force Awakens have been revealed. They are as follows:The Weapon Of A Jedi: A Luke Skywalker Adventure; Moving Target: A Princess Leia Adventure; Smuggler's Run: A Han Solo Adventure.
If these are actual titles, they seem to refer to a period before Episode VII. Making Star Wars has a great article on the release plans not only for these three books, but all the books in general.
The official Star Wars site has posted a second excerpt from Star Wars: Heir to the Jedi, the new Luke Skywalker-centric book being released this week. Click this link to read it and below, check out two alternate covers.
That's a clip from Monday's Star Wars Rebels finale, which should be exciting. Also exciting is the second part of Dave Filoni's interview with Star Wars.com. He goes through several key moments from this season – such as the Jedi Temple  - and explains how they came about. The exchange below is fascinating. This is just one of the questions, head to the link above for the rest.
StarWars.com: I have a bit of a continuity challenge for you. In Return of the Jedi, Yoda tells Luke, "When gone am I, the last of the Jedi will you be." But now he knows that Kanan and Ezra are out there. We obviously don't know at this point what will happen to them, but is that something you're aware of?Dave Filoni: I don't see it as a challenge at all. It's what the Sith call an absolute. When Obi-Wan says to Luke, "Your father was the greatest starfighter pilot in the galaxy," is that true? Or is that something you tell a kid because you want him to believe his father was great? It doesn't have to be empirical or absolutely true. Saying Luke is "the last," is that a singular thing, or is he the last of a group? I don't know.It definitely is something that comes up, and we discuss that moment all the time for what it could mean. It is possible to interpret it as, Luke is the last person that's following the path as laid out by the Jedi Order, which we knew. The way of the Jedi is not the only way to use the light side of the Force. Luke is taught by Obi-Wan and Yoda, who very much followed the dogma of the day. So, he is the last of that line for sure. That's absolutely true. But you don't have to be a Jedi to use the Force. You don't have to be a Sith to use the dark side.StarWars.com: Like the Inquisitor.Dave Filoni: Exactly. So, there's definitely ways around it, but it's definitely something that's come up. It doesn't mean we have to kill them, but it doesn't mean that we won't. We'll have to see what makes sense.