Ronda Rousey And Iko Uwais Teaming Up In 'Mile 22'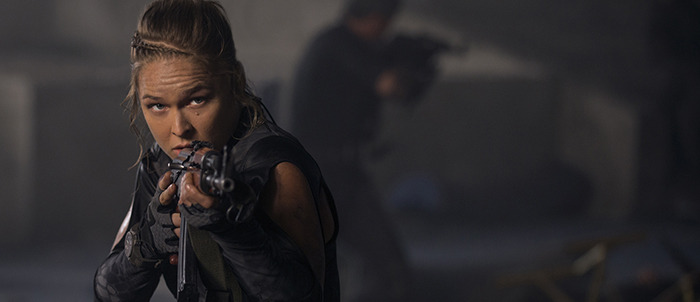 It took Ronda Rousey all of fourteen seconds to defend her championship by winning her bantamweight title fight against Cat Zingano during UFC 184. Afterwards, it didn't take Rousey much longer to sign for her next film. She'll fight alongside The Raid star Iko Uwais in Mile 22, a buddy thriller that will hopefully only team up Rousey and Uwais after giving them a chance to show down in a scene or two. 
Variety reports that Peter Berg will produce the film, which "explores the relationship between a CIA field officer and an Indonesian police officer, forced to work together as they confront violent and extreme political corruption."
This formalizes rumors of the film, which began last weekend when Berg shared photos of he and the two fighters. He said of the project,
I am a huge fan of what Gareth (Evans) and Iko did on both 'Raid' films and I'm very excited at the possibility of working with Ronda and Iko to create a film in the spirit of this new wave of combat cinema emerging from Indonesia. Ronda and Iko will be a very unique and powerful team.
Previously, Rousey was seen in The Expendables 3, and has also shot roles for Furious 7 and Entourage, which will be released in April and June of this year, respectively.
After getting attention in The Raid and The Raid 2, Uwais was cast in Star Wars: The Force Awakens, and it is interesting to see that Variety describes his Star Wars role as "significant." (That may be a description that comes from his publicist, however, so we'll have to wait until December to see just how important his role is.) He's also serving as fight choreographer and probably appearing in Gareth Evans' next film, Blister.