Watch: 'Get Hard' Gets Harder With New Red-Band Trailer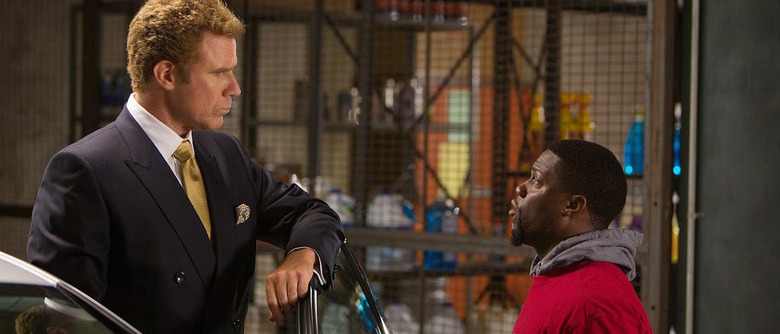 Here's one good argument for getting past racial stereotypes: Make the wrong assumptions, and you could find yourself getting stabbed or sucking a guy off as ill-advised "prison training" from some guy who's never received so much as a parking ticket.
That's the premise of Get Hard, the new comedy starring Will Ferrell as a hedge fund manager sentenced to a maximum security prison. In desperation, he seeks help from the first black guy he sees — an upstanding small business owner played by Kevin Hart. Watch the Get Hard red-band trailer after the jump.
If the phrase "red-band" didn't tip you off, the trailer below is NSFW. There's cursing and nudity — male and female. Some of it belonging to Nazis, apparently.
Get Hard seems to be at its best when it's just letting Ferrell and Hart do their thing. The opening scene of them singing along to ODB together is kind of adorable, and only Ferrell could make drinking wine in a massage chair look that funny. Hopefully that'll be enough to make up for the stale-seeming premise. The particulars may be different, but we've seen all of these jokes about prison rape and oblivious white guys hanging out with cool black people before.Get Hard opens March 27.
When millionaire hedge fund manager James (Will Ferrell) is nailed for fraud and bound for a stretch in San Quentin, the judge gives him 30 days to get his affairs in order. Desperate, he turns to Darnell (Kevin Hart) to prep him for a life behind bars. But despite James' one-percenter assumptions, Darnell is a hard-working small business owner who has never received a parking ticket, let alone been to prison.
Together, the two men do whatever it takes for James to "get hard" and, in the process, discover how wrong they were about a lot of things – including each other.