'Sharknado 3' Presidents Casting Might Shock You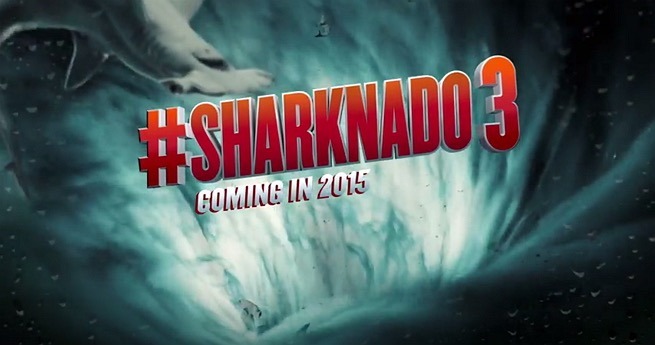 Syfy has announced some new casting for Sharknado 3. It seems like this mockbuster franchise is increasingly being stuffed with celebrity cameos, some of which make little to no sense. (Much like the plot of these films, I'm sure some would say.) The latest casting includes Mark Cuban as the president of the United States of America. I'm a fan of Cuban's and have been following him online for many years, and the reality television series Shark Tank has certainly brought him into the mainstream. The choice of right wing political commentator Ann Coulter to play the Vice President, however, seems like a move made to stir controversy. Read the full Sharknado 3 presidents casting press release after the jump.
Sharknado 3 Presidents Casting Press Release
MARK CUBAN TO BECOME THE PRESIDENT OF THE UNITED STATES WITH ANN COULTER ASSUMING DUTIES OF VICE PRESIDENT IN SHARKNADO 3BO DEREK, JERRY SPRINGER, CHRIS KIRKPATRICK AND CHRIS JERICHO WILL ALSO APPEAR IN NEW SYFY/THE ASYLUM PRODUCTIONNEW YORK – March 2, 2015 – A new Administration is taking office before January 2017! Syfy and The Asylum today announced that Dallas Mavericks owner Mark Cuban (Shark Tank) will play the President of the United States with political commentator/author Ann Coulter joining him as Vice President in the eagerly anticipated original movie Sharknado 3.Previously announced cameos in the latest installment of the global pop culture sensation will include Bo Derek as May, the mother of April (Tara Reid); Jerry Springer, appearing as Mr. White, a manic tourist; *NSYNC singer Chris Kirkpatrick as a pool lifeguard, and Chris Jericho, who will portray Bruce the roller coaster ride operator.Also joining the cast of Sharknado 3 will be Ryan Newman, who will play April and Fin's (Ian Ziering) daughter Claudia Sheperd, with Jack Griffo portraying Claudia's friend, Billy.Featuring stars Ian Ziering, Tara Reid and Cassie Scerbo (Nova), Sharknado 3 will premiere on Syfy in July, causing mass destruction in Washington, D.C., before roaring down the Eastern Seaboard and into Florida.Anthony C. Ferrante will once again direct, based on an original screenplay by Thunder Levin.Sharknado 3 is a production of The Asylum.When it aired last July 30, Sharknado 2: The Second One became Syfy's most-watched original movie ever.