PHOTO: Jared Leto Takes A Big Step In His 'Suicide Squad' Joker Preparation [UPDATED]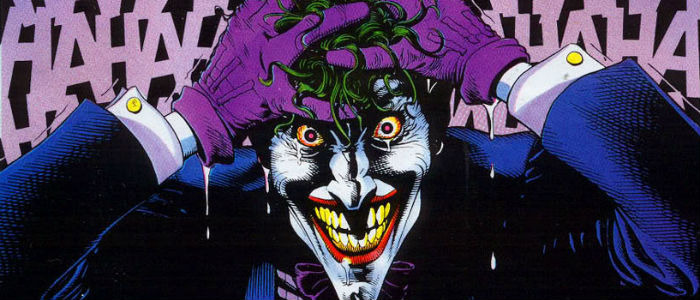 In 2014, Jared Leto won an Oscar for his performance in Dallas Buyers Club. In 2015, that meant two things. He could do any role he wanted and he had to appear at awards shows to present. We know the role he chose, Joker in David Ayer's Suicide Squad, and we all saw the actor at the Oscars, sporting long, flowing locks and full beard. He looked decidedly un-like the Joker.
Well, the first step in Jared Leto's physical transformation into the Clown Prince of Gotham City has begun. Plus Ayer described the character using one kind of surprising word. Below, check out the Jared Leto Joker preparation.
UPDATE: See a second photo from the film's director too.
Director David Ayer posted this photo on Twitter:
Jared Leto Joker
Should we? #SuicideSquad pic.twitter.com/Z0WlvtpDtH

— David Ayer (@DavidAyerMovies) March 2, 2015
There had been some discussion about whether or not Leto was going to be a new kind of Joker, with long hair, but now it seems pretty obvious that's not the case. His hairstyle will at least be somewhat recognizable when it comes to the iconic villain.
Ayer also got some attention recently but answering a question about Leto's character on Twitter.
"@pottertardis: @DavidAyerMovies could you please describe jared letos's joker in one word ?" Majestic #skwad

— David Ayer (@DavidAyerMovies) February 28, 2015
So the Joker is "majestic," huh? That's probably not a word we'd usually associate with the character, and definitely not the first one that comes to mind. But if you think about it, it fits. Usually, the Joker is about the spectacle. The bigger the crime, the bigger the deception, the bigger the evil, the better it is. That attitude of always putting on a performance is certainly majestic. And he'll presumably do it with shorter hair.
If you haven't realized already, Ayer's Twitter is a must follow for comic book movie fans. He drops awesome teases on an almost daily basis.
Suicide Squad, the third film in the DC Cinematic Universe, opens August 5, 2016. It stars Will Smith as Deadshot, Jared Leto as the Joker, Margot Robbie as Harley Quinn, Joel Kinnaman as Rick Flag, Jai Courtney as Captain Boomerang and Cara Delevingne as Enchantress.UPDATE: Ayer posted this photo as well. Is this just the second of a series? Could we get a full make up test today?
#SuicideSquad pic.twitter.com/iv5WaSduKb

— David Ayer (@DavidAyerMovies) March 2, 2015