Watch: James Cameron Visits Avatar Land's Bioluminescent Forrest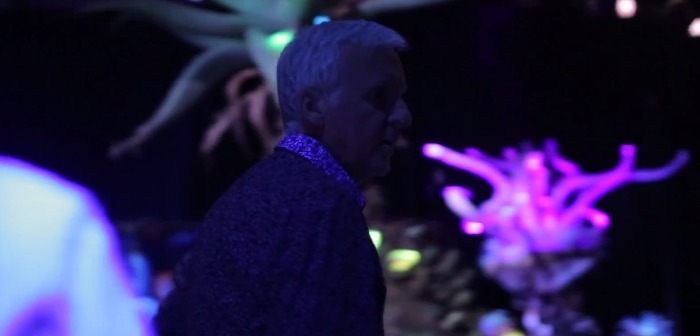 Its been a while since we've heard anything about Avatar Land, Disney World's upcoming theme park land based on James Cameron's epic Avatar franchise. Last we heard, construction had begun on Pandora in January 2014 in Disney's Animal Kingdom in Orlando Florida. Today we get an update which gives us a preview of some of the creative process including some of the really cool looking interactive features of the bioluminescent forrest currently in the works. Watch a video of James Cameron discovering the progress being made as he visits the Avatar Land Bioluminescent Forrest behind closed doors.
They also released a new photo of the upcoming land.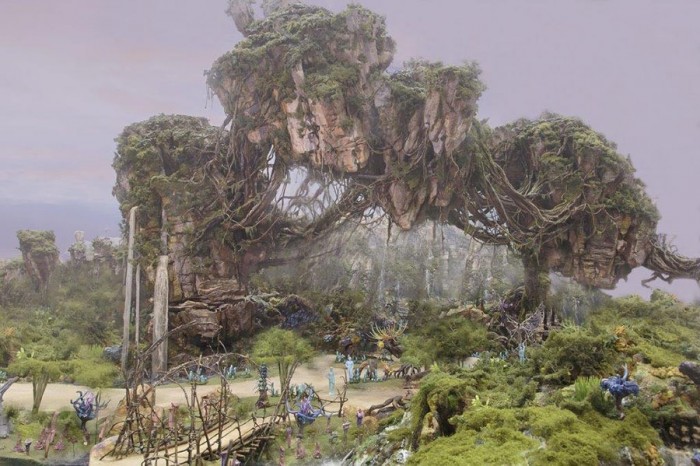 When I first saw the image I couldn't tellwhat it was: was it concept art, a photo from the construction site (way too early for that), but have come to the conclusion that its a look at one of the very detailed miniatures created by Walt Disney Imagineering of the new land.
The creative team recently convened at Walt Disney Imagineering in Glendale, California for a walkthrough of the Avatar Land progress. In the video below you will see a cool demonstration of the bioluminescent forrest features and more.
"We're having a lot of fun dreaming up ways to bring to life the land's iconic elements from the magnificent floating mountains to the interactive bioluminescent forest, and even to the soaring banshees," revealed Bruce Vaughn, Chief Creative Executive at Walt Disney Imagineering. "

This creative process has been one of the most dynamic and collaborative ones we've ever undertaken. ... This project is really pushing the boundaries of what is possible. But one of the things that makes Disney Parks so special is that it takes all of our Cast—across the segment—to really bring these experiences to life. We were glad to be able to share our work with the creative teams and thought you might want to see it, too. Here's a sneak peek of what we showed them.
James Cameron Visits the Avatar Land Bioluminescent Forrest
Walt Disney Imagineering's creative development team, led by Joe Rohde, has been "working hand-in-hand" with James Cameron, Avatar producer Jon Landau and their team of artists and designers at Lightstorm "on every aspect of this project—from overall design to the smallest—yet crucially important—details." We also get a new quote from James Cameron, having just seen the progress:
"I think one of the things that people loved about the movie is that they felt as if they had visited Pandora... now, thanks to Disney's amazing Imagineers, people are going to truly experience Pandora firsthand. From the details in the plants to the production and design, extraordinary thought and care has gone into this entire world. The teams have really created something special, and it's not going to be like anything else."
I am loving everything I'm seeing. The interactive aspects of the bioluminescent forrest could be so cool if done right. Here are a few photo screenshots from the video:
If you look carefully, there is something intentionally blurred in the background of this shot. Can anyone figure out what it might be?