Rosamund Pike Joins Christian Bale In 'The Deep Blue Good-By'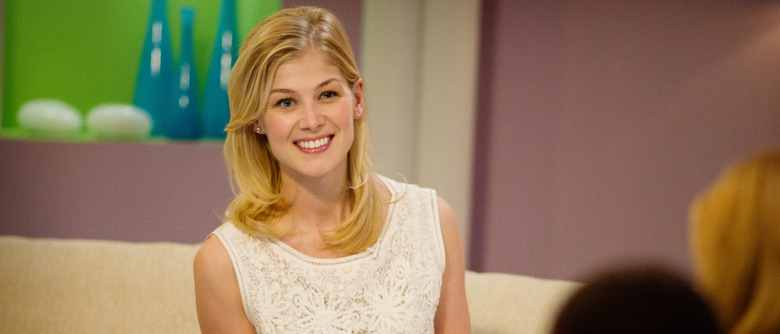 Rosamund Pike may have lost the Oscar to Julianne Moore this year, but she's still reaping the benefits of her star-making turn in Gone Girl. Her latest new project is James Mangold's The Deep Blue Good-by, which teams her with Christian Bale. More on the Rosamund Pike Deep Blue Good-by casting after the jump. The Deep Blue Good-by is based on the first of 21 books by John D. MacDonald featuring Travis McGee, who'll be played by Bale. A "salvage consultant" who recovers stolen property for a fee, Travis has a knack for attracting trouble and women.
Here's the plot of that novel, published in 1964:
Travis McGee is a self-described beach bum who won his houseboat in a card game. He's also a knight-errant who's wary of credit cards, retirement benefits, political parties, mortgages, and television. He only works when his cash runs out, and his rule is simple: He'll help you find whatever was taken from you, as long as he can keep half.
McGee isn't particularly strapped for cash, but how can anyone say no to Cathy, a sweet backwoods girl who's been tortured repeatedly by her manipulative ex-boyfriend Junior Allen? What Travis isn't anticipating is just how many women Junior has torn apart and left in his wake. Enter Junior's latest victim, Lois Atkinson.
Frail and broken, Lois can barely get out of bed when Travis finds her, let alone keep herself alive. But Travis turns into Mother McGee, giving Lois new life as he looks for the ruthless man who steals women's spirits and livelihoods. But he can't guess how violent his quest is soon to become. He'll learn the hard way that there must be casualties in this game of cat and mouse.
Variety reports Pike will play the female lead, which probably means Lois. The script comes from Shutter Island author Dennis Lehane, with a recent rewrite by Scott Frank. Leonardo DiCaprio, Jennifer Davisson-Killoran, and Amy Robinson are producing along with Chernin Entertainment.
Pike had been bouncing around Hollywood for a few years already before she was cast in Gone Girl, but her slippery performance as Amy Dunne has opened new doors. Her other upcoming roles include The Bends with Joel Kinnaman and The Mountain Between Us with Charlie Hunnam.