'Love & Mercy' Trailer Starring Paul Dano And John Cusack As The Beach Boys' Brian Wilson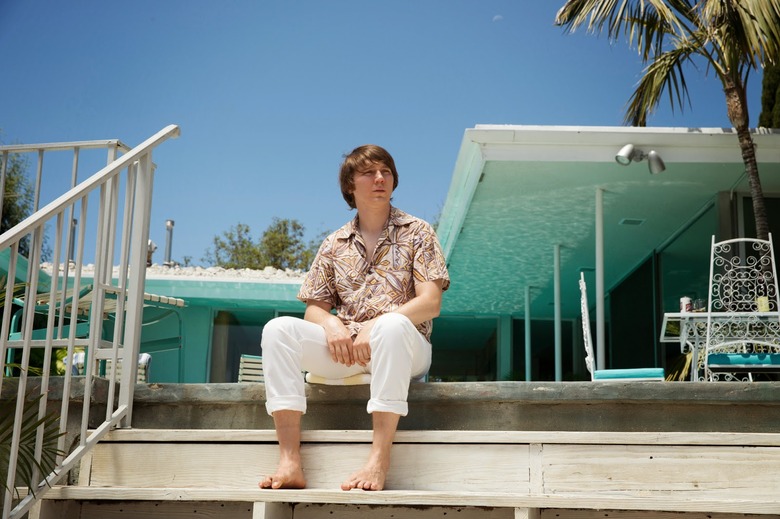 Brian Wilson wasn't a conventional person, so why should he get a conventional biopic? Love & Mercy casts not one but two actors as the Beach Boys musician. Paul Dano plays him in the 1960s, when he was a young man on track for greatness; John Cusack plays him in the 1980s, as he's struggling to get out from under an abusive relationship with his doctor Eugene Landy (Paul Giamatti).
Leaving aside the fact that Dano, Cusack, and Wilson don't really look alike at all, Love & Mercy seems like an artful exploration of an American music icon. Elizabeth Banks also stars as Melinda Ledbetter, the woman who would become Wilson's second wife. Watch the Love and Mercy trailer after the jump.
Roadside Attractions debuted the Love and Mercy trailer on YouTube.
Based on the subject alone, Love & Mercy should be an automatic must-watch for Beach Boys fans. Fortunately for them and us, it also seems like a legitimately good movie. It collected warm reviews at TIFF last year, with THR calling it "deeply satisfying" and Variety remarking that it was "a wonderfully innervating cure for the common musical biopic."
BBC.com was even gushier about it:
Once in a while, though, you see a biopic that brings off something miraculous, that recreates a famous person's life with so much care that the immersion we seek is achieved. When you watch Love & Mercy, a drama about Brian Wilson, the angelic yet haunted genius of The Beach Boys, you feel like you're right there in the studio with him as he creates Pet Sounds. And it's a little like sitting next to Beethoven: the film is tender and moving, but also awe-inspiring.
With praise like that, Love & Mercy definitely seems worth seeking out when it opens June 5, 2015.
LOVE & MERCY presents an unconventional portrait of Brian Wilson, the mercurial singer, songwriter and leader of The Beach Boys. Set against the era defining catalog of Wilson's music, the film intimately examines the personal voyage and ultimate salvation of the icon whose success came at extraordinary personal cost.