New 'Spectre' Images Reveal Dave Bautista As Mr. Hinx And Lea Seydoux As Dr. Swann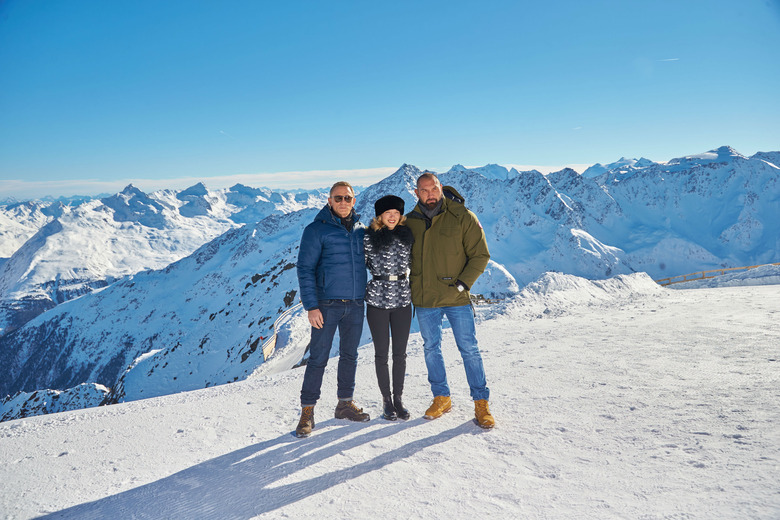 We've already seen
from the new Bond film, Spectre, and now we have a first look at some of the characters that'll cross his path. New pictures reveal Dave Bautista as henchman Mr. Hinx (who, unlike Drax the Destroyer, understands what a metaphor is) and Léa Seydoux as not-quite-Bond-girl Dr. Madeleine Swann.
Get to know the new characters with a fresh batch of Spectre images after the jump.
debuted the latest Spectre images, which show Mr. Hinx and Dr. Swann. They've also revealed two covers featuring Daniel Craig as James Bond.
In the accompanying interview, Bautista explains what drew him to the role:
When I came over to meet Sam [Mendes], I only asked two questions. I asked him if Mr. Hinx was a badass. He said, 'Yes, he's a badass.' I said, 'Well, is Mr. Hinx intelligent?' He said, 'Very.' That's what I like about Mr. Hinx. He's very well-dressed and very well-mannered. I'm not just here to fight people. He has a sense of humour. He definitely knows what a metaphor is.
So we're not dealing with your typical lunkhead henchman here. And Seydoux says she won't be giving us the typical Bond girl, either:
I don't consider myself a Bond girl. I think I'm not really the stereotyped Bond girl. I feel quite different. You can't be like, 'Oh, James.' You have to find something else. She's not a fighter, she's a doctor. She fights in another way.
Spectre opens November 6. Also starring are Christoph Waltz, Ralph Fiennes, Naomie Harris, Ben Whishaw, Rory Kinnear, Andrew Scott, and Monica Belluci. Sam Mendes directs fro ma script by John Logan, Neal Purvis, and Robert Wade.
A cryptic message from Bond's past sends him on a trail to uncover a sinister organisation. While M battles political forces to keep the secret service alive, Bond peels back the layers of deceit to reveal the terrible truth behind SPECTRE.