Lady Gaga Checks Into 'American Horror Story: Hotel'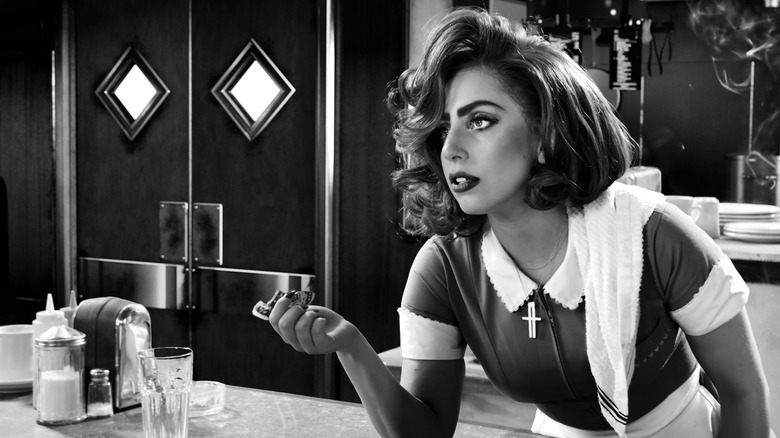 It was a shockingly toned-down Gaga who took the stage at this weekend's Academy Awards, but fear not, little monsters. The pop singer hasn't lost touch with her weird side. Lady Gaga is set to star in the new season of FX's American Horror Story, subtitled Hotel. Watch the Lady Gaga American Horror Story announcement after the jump. 
Lady Gaga revealed the big news on Twitter, via a brief teaser video with the familiar American Horror Story theme.
Make your reservation now. #GagaAHSHotelhttps://t.co/o9ixi5TaFy

— Lady Gaga (@ladygaga) February 25, 2015
Were this anyone else, we might assume her bizarre headpiece offered clues about the upcoming season. But this is a woman who once wore a dress made of literal meat to the VMAs. The spangly black helmet is probably just what she wears to pick up Band-Aids at CVS.
EW adds that Gaga isn't just talking about a guest spot — she'll be a regular on the series. That makes American Horror Story: Hotel her most substantial acting gig yet. Gaga has previously cameoed as herself in Men in Black III and The Simpsons, and she had small roles in Machete Kills and Sin City: A Dame to Kill For.
Very few details have been revealed about the next season of American Horror Story — in fact, this is the first major bit of information we've had — but those who just can't wait can go digging for clues in the previous seasons. Series creator Ryan Murphy has said Freak Show (Season 4) contained hints about Season 5, and that all of the seasons are connected somehow.
Gaga is the latest high-profile celebrity to join the series, which starts with a new cast each season. It's unknown at this time, which, if any, of the regulars from past seasons will return. Jessica Lange has previously said Freak Show would be her last outing with the show, though Murphy has admitted he's trying to woo her back.
American Horror Story: Hotel will premiere this October.