Disney Is Reviving 'DuckTales'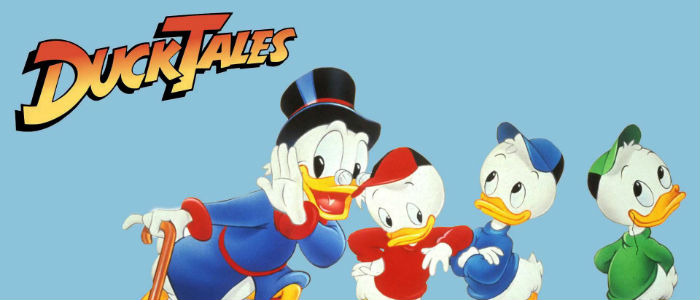 For anyone who grew up in the Eighties or Nineties, DuckTales was just a part of your life. You sang the song, you knew the characters, you made sure to be in front of the TV whenever new episodes were on. Now, Disney will present new tales of daring on Disney XD in 2017. Read more about the DuckTales remake below.
Here's the press release about the DuckTales remake. More after:
Whether you grew up on the Disney Afternoon, or you're just a fan of iconic Disney animation, we think you'll be excited to learn that an all-new DuckTales, an animated comedy series based on the Emmy Award-winning series treasured by a generation of viewers, has been ordered for launch in 2017 on Disney XD channels around the world. Set to be produced by Disney Television Animation (DTVA), the new series will again star Disney's enduringly popular characters: Scrooge McDuck, his grandnephews Huey, Dewey, and Louie, and Donald Duck. The announcement was made today by Marc Buhaj, Senior Vice President, Programming, and General Manager, Disney XD.
Buhaj said, "DuckTales has a special place in Disney's TV animation history, it drew its inspiration from Disney Legend Carl Barks' comic books and through its storytelling and artistic showmanship, set an enduring standard for animated entertainment that connects with both kids and adults. Our new series will bring that same energy and adventurous spirit to a new generation."
The new series' adventures will once again take viewers along as Scrooge McDuck, his curious and mischief-making grandnephews—Huey, Dewey, and Louie—and the optimistic-yet-temperamental Donald Duck embark on high-flying adventures worldwide. Other beloved characters slated to be in the new stories are: Duckworth, Gyro Gearloose, Launchpad McQuack, Flintheart Glomgold, Magica DeSpell & Poe, Ma Beagle and the Beagle Boys (Burger Beagle, Bouncer Beagle), Mrs. Beakley, and Webbigail Vanderquack.
A generation's seminal cartoon, the Emmy Award-winning DuckTales led the daily syndicated cartoon block "The Disney Afternoon" with 100 episodes produced by DTVA from 1987–'90. An animated theatrical film, DuckTales the Movie: Treasure of the Lost Lamp, premiered in 1990.
The original DuckTales is currently available on WATCH Disney Channel, an app that allows consumers to watch on tablet, phones, computer, and set top boxes.
Disney Interactive features several DuckTales-themed items in the Disney Infinity toy box. A music video of the familiar DuckTales theme song (with real ducks) has amassed more than six million views since September 2014 on the popular YouTube channel "Oh My Disney."
So all the classic characters will be back, and it sounds like the same adventurous tone will be present. You have to think it'll be computer animated this time, so it'll look more modern, but other than that there's really nothing about the show that grounded it to its time. It's a timeless family adventure and I know I'll be excited for a new generation to check it out in a few years.
Are you interested in a DuckTales remake?