'The Divergent Series: Insurgent' Gets One Last Trailer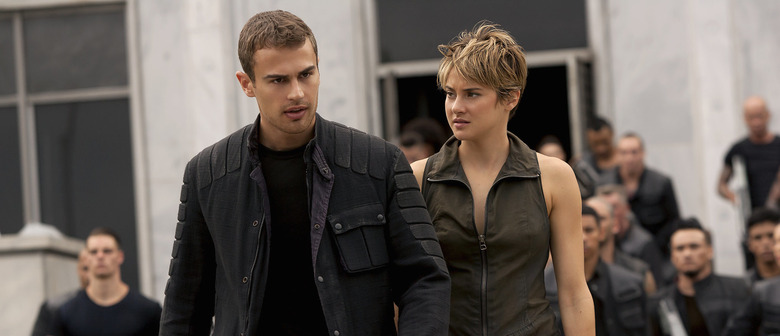 The dystopian YA trend is still going strong in 2015, with The Divergent Series: Insurgent the first one out of the gate. Shailene Woodley once again plays Tris, a special snowflake with more than one personality trait. That makes her a threat to the corrupt system, run by Jeanine (Kate Winslet).
Joining her once more are Theo James as handsome love interest Four, Miles Teller as mean kid Peter, and Ansel Elgort as Tris' skeptical brother. Octavia Spencer and Naomi Watts join the cast. Watch The Divergent Series Insurgent final trailer after the jump.
Lionsgate posted The Divergent Series Insurgent final trailer on YouTube.
Divergent wasn't exactly a Hunger Games-level success, but $288 million is nothing to sneeze at. So here we are following the further adventures of Tris Prior, which look even more muddled and convoluted than her previous ones. Here's Tris running across a field, getting attacked by wires, falling out of a skyscraper, and swinging from some kind of... floating concrete block? Sure, why not.
The Insurgent trailer does explain Tris' new haircut: "I wanted something different," she says while batting her eyes at Theo James. He'd probably be horrified if he knew the real reason, which is that Woodley had to run off and fall in love with her Divergent sibling Ansel Elgort for the teen cancer romance The Fault in Our Stars.
The Divergent Series: Insurgent opens March 20. Robert Schwentke directs.
THE DIVERGENT SERIES: INSURGENT raises the stakes for Tris as she searches for allies and answers in the ruins of a futuristic Chicago. Tris (Woodley) and Four (James) are now fugitives on the run, hunted by Jeanine (Winslet), the leader of the power-hungry Erudite elite. Racing against time, they must find out what Tris's family sacrificed their lives to protect, and why the Erudite leaders will do anything to stop them. Haunted by her past choices but desperate to protect the ones she loves, Tris, with Four at her side, faces one impossible challenge after another as they unlock the truth about the past and ultimately the future of their world.