Superman Is Coming To 'Supergirl', Sorta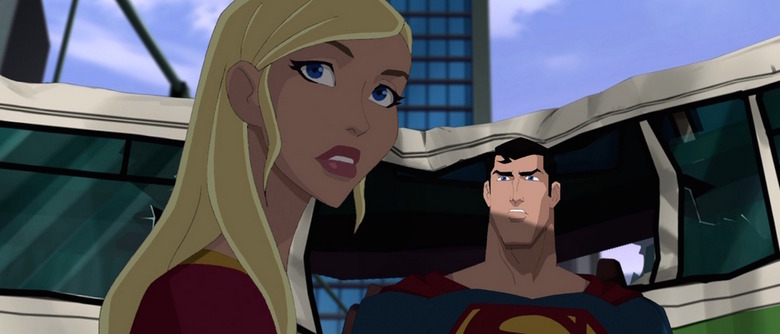 It seems Supergirl's Super-Cousin will be stopping by her new series. A casting call has gone out for Superman to appear in the upcoming pilot from CBS.
However, don't expect him to be a regular in Kara's adventures — the listing suggests we won't be getting up close and personal with him. At least not for now. More on the Supergirl Superman casting after the jump. 
KryptonSite (via TV Line) picked up the listing, which calls for a "5'11 or taller," "square-jawed" man with "a ripped physique" to serve as a "body double for a DC Comics superhero." Just so there's no confusion about which DC Comics superhero they mean, applicants are instructed to write "SUPERMAN" in the subject line.
The fact that Supergirl is casting a body double, rather than a regular actor, suggests we won't be getting a very good look at Superman. He might appear partially obscured, or at a distance, or in background footage.
It may be that Warner Bros. TV wants to avoid conflicting with its current big-screen Superman, Man of Steel's Henry Cavill. Even if they're not part of the same interconnected universe, it could be confusing to have two Supermen flying around.
Or it could be that they're keeping their options open, with hopes of bringing Superman into clearer focus later on. He's such an iconic figure that he could potentially overshadow Supergirl if he were brought on as a character. Leaving him in the background establishes his existence and Kara's relationship to him without distracting from the central storyline.
Melissa Benoist leads the new series as Kara Danvers, who escaped Krypton just as it was being destroyed. Now 24, she decides to embrace her powers and become a force for good.
Other characters include Kara's foster sister / likely Lex Luthor figure Alex, and her colleague / possible love interest Jimmy Olsen (Mehcad Brooks). Calista Flockhart plays Kara's boss Cat Grant, and Laura Benanti is Kara's Kryptonian mother. Greg Berlanti and Ali Adler are producing.