Watch 'The Boy Who Couldn't Sleep And Never Had To' Short Film, Based On DC Pierson's Novel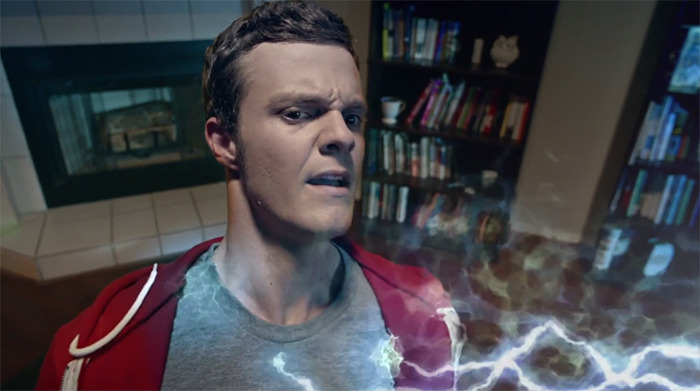 Actor and comedian DC Pierson wrote a novel called The Boy Who Couldn't Sleep and Never Had To, and you can now see part of that book adapted as a short film. See, Pierson and director Dan Eckman (Community, Mystery Team) and producer Meggie McFadden want to turn the novel into a feature, and they've made this short as a proof of concept. The cast features Tony Revolori (The Grand Budapest Hotel, Dope) and Jack Quaid (The Hunger Games).
In The Boy Who Couldn't Sleep short, Revolori and Quaid play high school friends whose foray into making comics is complicated when Revolori reveals he has the power to manifest ideas into reality. Naturally, that has some pretty huge and funny consequences. Watch the short after the break.
The team posted the short to Vimeo, accompanied by some of the info you'll find under this embed.
THE BOY WHO COULDN'T SLEEP AND NEVER HAD TO proof-of-concept from Dan Eckman on Vimeo.
Director Dan Eckman ("Community," "Mystery Team") and his frequent collaborators Meggie McFadden and DC Pierson are adapting Pierson's award-winning novel The Boy Who Couldn't Sleep And Never Had To into a feature film. The filmmakers self-produced this proof-of-concept short starring Tony Revolori (Best Picture nominee "The Grand Budapest Hotel") and Jack Quaid ("The Hunger Games"), and are actively seeking financing for the feature film version.
The Boy Who Couldn't Sleep And Never Had To is a coming-of-age sci-fi adventure in the tradition of Back To The Future, with classic teen-movie themes like friendship, first love, and betrayal playing out on a superhuman scale.
Darren, a high school outcast whose only refuge is his homemade comic book, gets launched into an adventure way cooler than anything he could dream up when he discovers his best friend has no biological need for sleep and can bring their dreams into reality.
Composed of equal parts action, humor, and heart, this story of a comic book fan who finds himself in a real-life superhero movie will make audiences believe that anything is possible.
Dan, Meggie, and DC are repped by their lawyer Lev Ginsburg at Ginsburg Daniels LLP.