Jessica Chastain Joins 'Snow White' Prequel 'The Huntsman'; Nick Frost To Return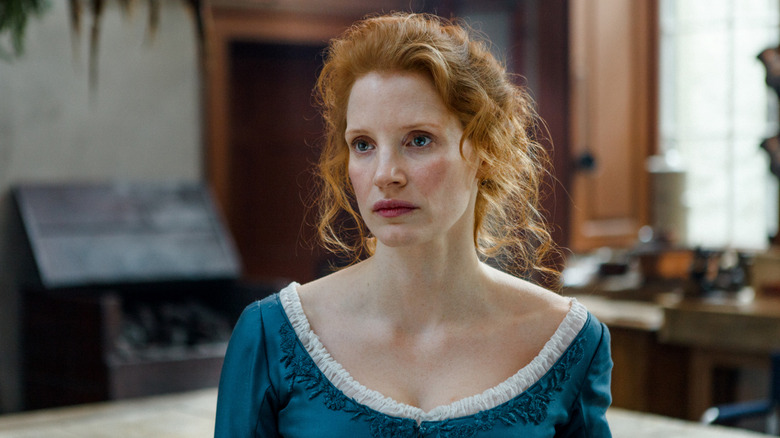 Even with Kristen Stewart out, the cast of The Huntsman just keeps getting more interesting. Jessica Chastain is reportedly joining Chris Hemsworth and Charlize Theron in the Snow White and the Huntsman follow-up.
Meanwhile, Emily Blunt has closed her deal to star, and Nick Frost is poised to return after all. More on the Huntsman Jessica Chastain casting after the jump.
Deadline reported the news, but offered no details on Chastain's character. Hemsworth and Theron reprise their roles as Eric (a.k.a. the Huntsman) and Ravenna from the first film. Blunt plays a new character, Ravenna's villainous sister.
The prequel has Eric and Ravenna crossing paths long before Snow White entered their lives. Specifically, it sends Eric in search of a stolen magic mirror, which dredges up an old grudge between him and the Snow Queen.
We heard last month that most of the dwarves, including Frost, would be sitting out The Huntsman, but it seems an agreement has been worked out. That makes him the first dwarf confirmed to return. There's no word on which of the others will join him.
Chastain is coming off of a busy 2014, starring in The Disappearance of Eleanor Rigby, Miss Julie, Interstellar, and A Most Violent Year. Her 2015 looks just as crowded. She's wrapped Guillermo del Toro's Crimson Peak, due out this fall, and is now shooting The Martian for Ridley Scott.
The Snow White and the Huntsman follow-up was put into development shortly after the first film opened in 2012, but it's been through some rough patches since then. Nicolas-Troyan, a VFX wizard who worked on the first film, signed on to direct just last month.
The Huntsman will be Nicolas-Troyan's feature directing debut. The script was written by Frank Darabont, who was once previously set to direct. Craig Mazin and Evan Spiliotopoulos contributed earlier drafts.
The Huntsman is scheduled to open April 22, 2016.