The Academy Explains Why Joan Rivers Was Left Out Of The Oscars 'In Memoriam' Segment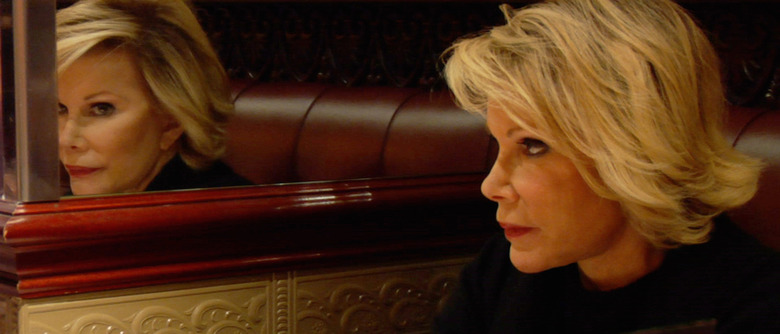 Each year, the Academy Awards ceremony includes an "In Memoriam" segment honoring all the people who've passed away over the past year. And each year, the "In Memoriam" segment manages to piss some people off by forgetting or excluding certain names.
This year, one of the most notable omissions was comedian Joan Rivers. Viewers were quick to express their outrage, and now the Academy has responded with a not-very-satisfying explanation. Read the Oscars Joan Rivers statement after the jump. 
Here is an example of the reaction to Rivers' omission:
No Joan Rivers in the montage??? She basically created the red carpet which makes all of these bitches millions. For shame!!!

— billy eichner (@billyeichner) February 23, 2015
And here is how the Academy has now responded:
Joan Rivers is among the many worthy artists and filmmakers we were unfortunately unable to feature in the In Memoriam segment of this year's Oscar show. She is, however, included in our In Memoriam gallery on Oscar.com.
Okay, it's true that it's literally impossible to include every single artist and filmmaker in a five-minute In Memoriam montage. And you could argue that Rivers was more of a comedy or TV figure than a movie one. But she's had roles in several films, including The Muppets Take Manhattan, Spaceballs, Iron Man 3, and of course her own documentary, Joan Rivers: A Piece of Work.
More crucially, the acerbic comedian made the red carpet what it is today. She's credited with inventing the ubiquitous question "Who are you wearing?" and remembered for her scathing critiques of celebrity fashion. Today, the red carpet is a crucial part of any major awards show or promotional campaign — so much so, the entire first hour of the Oscars telecast is devoted to red carpet arrivals.
Of course, Rivers wasn't the only deserving figure left out of the In Memoriam segment. Elaine Stritch, Jan Hooks, Taylor Negron, and Richard Kiel were some of the others who were sadly ignored. But the Academy has yet to release statements about any of them.