Darth Vader Returns To 'Star Wars Rebels' For Season One Finale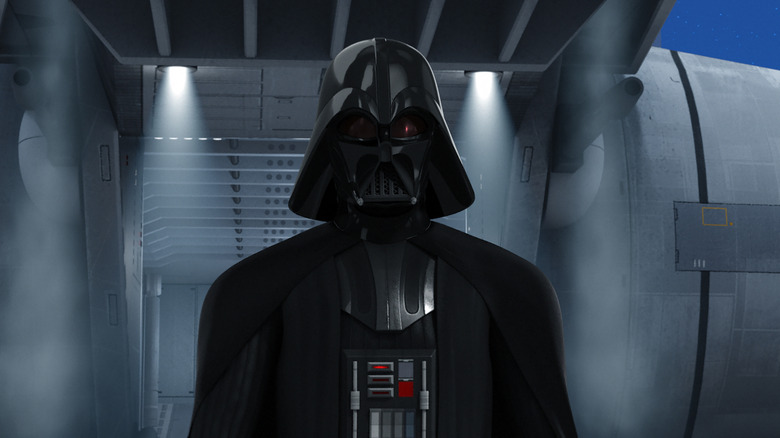 Monday night, the penultimate episode of the first season of Star Wars Rebels aired. That means next week, the first season ends and with it brings comes most iconic character in the saga. Darth Vader will make his first official appearance on the show during the season one finale. The episode is called Fire Across the Galaxy and it'll air on Disney XD at 9:00 p.m.
Below, find out more about the Darth Vader Star Wars Rebels appearance and see a clip.
Here's a clip from the finale of Star Wars Rebels.
Darth Vader Star Wars Rebels
Vader has been on the show before, but in an unofficial capacity. He appeared in the first scene of a special extended version of the Star Wars Rebels pilot called Spark of Rebellion. When it first aired on Disney XD, there was no Vader scene, but when it aired again on ABC, the first scene of the show was Vader – voiced by James Earl Jones –  talking to his Jedi Inquisitor, voiced by Jason Isaacs. You can watch there here:
Since then, lots and lots has happened on Rebels. It's been a really great season, filled with Star Wars action, mythology and more. The current and final story arc involves the Rebels – Ezra, Kanan, Sabine, Hera, Zeb and Chopper – trying to send out a signal into the universe letting people know not to fear the Empire. Grand Moff Tarkin then captured Kanan as the group tried to escape and, on Monday's penultimate episode, the Rebels found out Kanan's whereabouts. The final episode will see them trying to complete the rescue.
As for how Vader fits in, it was revealed by the Rebels' mysterious ally Fulcrum that the message they sent out attracted the attention at the highest levels of the Empire. This was no doubt a tease at what's to come.
While the first season of Rebels is about to come to an end, the second season will have its world premiere at Star Wars Celebration in April. There's no word when it'll premiere after that, but you have to think the Summer is a good bet.
Are you excited for the Darth Vader Star Wars Rebels appearance?