Watch The Best And Worst Moments Of The 2015 Academy Awards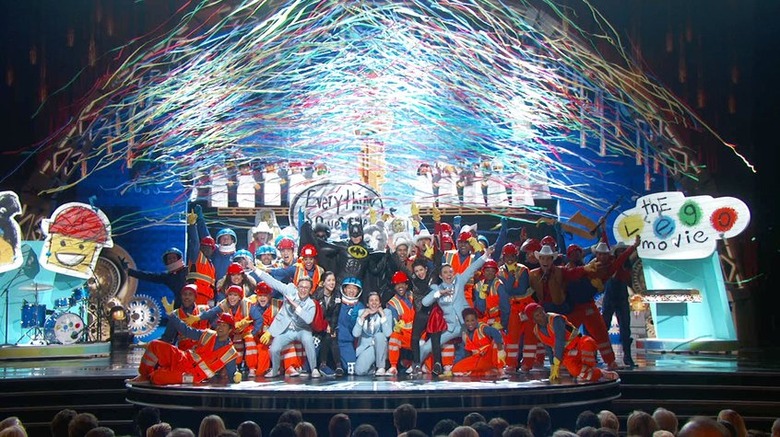 The instant the 87th Annual Academy Awards ended, the dissection began. What was good? What was bad? Was anything offensive? How about inspirational? This year's event, hosted by Neil Patrick Harris, had all of that and more. Let's not delay, below you can see the best and worst 2015 Oscar moments.
The Best of the 2015 Academy Awards
Best Original Song Performance - Everything is Awesome by Tegan and Sara, The Lonely Island and others
Everyone loves The Lego Movie and despite the film not getting nominated for Best Animated Feature (a fact host Neil Patrick Harris joked about) we had this performance which was incredibly energetic, colorful and filled with surprises. Among those were Lego Oscars for lucky celebrities in the front row, Questlove and Will Arnett dressed as his Lego Batman character. Side note, director Chris Miller said the suit Arnett wore was Val Kilmer's from Batman Forever.
The Opening featuring Neil Patrick Harris, Anna Kendrick and Jack Black
The opening of the Oscars is always the biggest moment for the host and Harris did a great job here. A fun song and dance number that used a ton of special effects placing him in famous movies throughout history. Plus, cameos from a lot of fun movies you'd never expect at the Oscars. Bonus points for Anna Kendrick reprising her Into the Woods character and Jack Black's jabs at the Hollywood machine.
Patricia Arquette's Acceptance Speech for Best Supporting Actress
Patricia Arquette winning Best Supporting Actress for Boyhood wasn't a surprise. The actress using her time to advocate for wage equality for women was. It was one of those politically charged moments that, no matter what you think of it, is incredibly memorable. Bonus points for the Meryl Streep reaction at the end.
Neil Patrick Harris' Birdman Spoof
When you're watching the Oscars, you expect to see ball gowns and tuxedos. Not the host in a pair of tighty-whities. But Neil Patrick Harris went for it, spoofing one of the big moments in Birdman. A "Wow" moment simply because it was so unexpected.
Best Original Song Performance - Glory by John Legend and Common
Two titans of R&B took to the stage to performance the incredibly powerful song that not only sounded great, it looked incredible. A replica of the Edmund Pettus Bridge was erected and a multi-racial chorus played the marchers. It was a super emotional performance that elicited tears not only from Selma star David Oyelowo, but Captain Kirk himself, Chris Pine.
Common and John Legend's Best Original Song Acceptance Speech
After that above performance, Glory won the Oscar for Best Original Song. It was certainly the crowd favorite and Common and John Legend took the opportunity to speak on behalf the film, which many felt was snubbed in some categories. It was another of those politically charged moments that gave you chills.
Graham Moore's Best Adapted Screenplay Acceptance Speech
In probably the most inspiring moment of the evening, Graham Moore accepted his award for The Imitation Game and admitted he once wanted to kill himself. However, he struggled through it, was now accepting an Oscar and told everyone out in the world that they can do the same.
The Worst of the 2015 Academy Awards
Creepy John Travolta
What started as one of the best moments of the ceremony quickly turned into one of the worst. Idina Menzel presented with John Travolta, who famously screwed up her name the year prior. It was a nice burying of the hatchet, until Travolta started awkwardly touching her face for no reason.
Joan Rivers Missing From In Memoriam
Every year Hollywood pays tribute to the men and women who passed away in the last year. This year's segment was different in that it was all drawings and there was no applause from the audience, which was tasteful. But someone is always missing. This year, it was Joan Rivers. Not only is she an icon, there was a documentary based on her life, she's acted in films oh and she's only the mother of the red carpet fashion show. How does she not get mentioned?
Lady Gaga's Sound of Music Tribute
Lady Gaga singing The Sound of Music sounded amazing. Wow can she sing. But why was this part of the show? The 50th annivesary of the classic film, I understand, but it's not like they do this every single year. Was it just because they knew they had a young, hip performer in Gaga? It was cool to bring Julie Andrews in at the end but to hand out Best Original Score? The whole thing felt forced.
Neil Patrick Harris' Magic
Again, this was another good idea that went wrong. The show started with Neil Patrick Harris setting up a bit where his Oscar predictions were under lock and key on the side of the stage. It became a running joke all night leading up to the above moment. However, when you thought it was just going to predict the winners, he predicted specific moments he never could have known about. It was a magic trick and it just felt out of place and weird.
The Play Off Music
Ida wins Best Foreign Language film. Director Pawel Pawlikowski gets up to accept the award and the play off music starts. No matter. He just barrels through it. This is his moment and I think it was an awesome moment. It's on the worst list because it shows that the play off music is intrusive, annoying and mostly pointless.
Sean Penn's Weird Joke
"Who gave this son of a bitch his green card?" Asks Sean Penn before giving Alejandro G. Inarritu the Oscar for Best Picture for Birdman. The two are friends, having worked together on 21 Grams, but the timing of the joke – at literally the biggest point of the night – was completely off.