'Wonder Woman' Will Shoot This Fall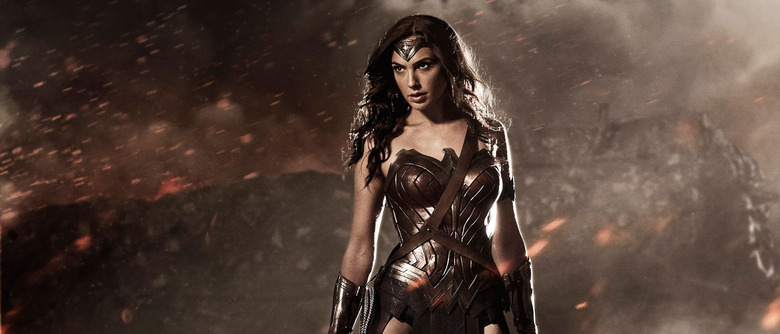 Gal Gadot will be back in her Wonder Woman armor before long. Though she's not set to make her debut as the DC superheroine until next year, Warner Bros. is pushing ahead with the Wonder Woman standalone. According to a new report, it'll shoot before the end of the year. More on the Wonder Woman standalone shooting schedule after the jump.
According to Deadline, who buried the news in an unrelated casting story*, Wonder Woman will shoot this fall. Michelle MacLaren is directing the film from a script by Jason Fuchs. Warner Bros. already has June 23, 2017 earmarked for the movie. Gadot is also expected to reprise the role for the Justice League Part 1, due out November 17, 2017.
A recent rumor indicated that Warner Bros. wants an entire Wonder Woman trilogy, and that the first film will center on Paradise Island's first contact with the outside world in the 1920s. That same report claims the second Wonder Woman movie will be set during World War II, and the third will bring Wonder Woman into the modern day. As of now, though, Warner Bros. has only confirmed the one Wonder Woman movie.Wonder Woman is MacLaren's second feature, after the direct-to-video thriller Population 436. However, she's an accomplished TV director, with episodes of Game of Thrones, The Walking Dead, and Breaking Bad under her belt. Fuchs' previous credits include Joe Wright's Pan and Ice Age: Continental Drift.
Up until very recently, Gadot was best known for her work in the Fast & Furious series. Her other upcoming features are Ariel Vroman's Criminal and John Hillcoat's Triple Nine. Her first appearance as Wonder Woman comes in Batman v Superman: Dawn of Justice, which opens March 25, 2016.
(* Oh, and here's the casting story, if you're curious: Gadot is in talks for Keeping Up With the Jonses, directed by Greg Mottola. She'll join Zach Galifianakis, Isla Fisher, and Jon Hamm. Production begins in April.)