Star Wars Rumor: 'Kingsman' Star Taron Egerton Up For Young Han Solo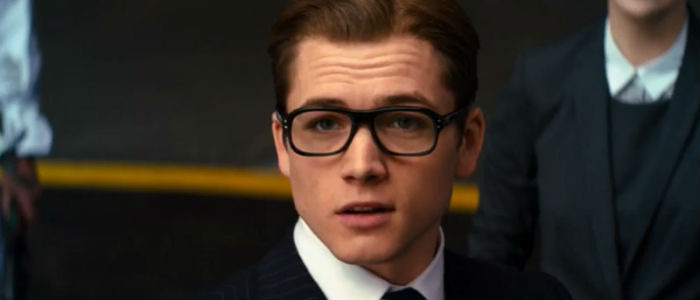 Fans know infinitely more about Star Wars: The Force Awakens than they do the standalone films. For sure, we know Gareth Edwards is directing one that'll be released in December 2016. Gary Whitta wrote the first draft, Chris Weitz is writing the latest and we think Oscar-nominee Felicity Jones will star. We also think it'll be about a group of bounty hunters or pirates hired to steal the plans for the Death Star. Emphasis on "think."
That's the 2016 film. 2017 will see Rian Johnson's Star Wars Episode VIII and then 2018 will see the next standalone. We think Josh Trank will direct that film, but rumblings are even that might not be true anymore. As for the subject of the film, it's mostly speculation.
Which is all preamble to the latest rumor, coming from The Sun newspaper in the UK. They say that second standalone movie will feature a young Han Solo (a rumor we've heard for years at this point) and that Taron Egerton, currently starring in Kingsman: The Secret Service, is being eyed for the role. Read more about the Taron Egerton Han Solo rumor below.
The rumor originated at the UK tabloid The Sun. It's not online yet, so thanks to the Daily Mail for the heads up.
According to the report, the Han Solo film will show "how Harrison Ford's iconic character got the Millennium Falcon and as well as showing how he fell out with Jabba the Hutt." If that's the case, you'd have to imagine how he met Chewbacca and other things would be in the film too.
So how much weight does this rumor hold? I would tend to say not a lot as The Sun is not particularly reliable. But Kingsman writer Mark Millar did tweet this:
Taron shot first. #justsayin

— Millarworld (@mrmarkmillar) February 21, 2015
Is he just reacting to the rumor or is there some inside info? Probably the former, but maybe the latter.
A few quick reactions. One, before everyone goes crazy in the comments, I agree. I don't want to see a Han Solo origin film. He's my favorite character of all time but part of the character's appeal are the mysteries in his past. Getting concrete answers to those questions would ruin a lot of the mystique. If he's part of a larger story (the more likely interpretation) that's better, but still a little scary.
Second, if the Solo solo film had to happen, I do like Egerton for the role. Unlike other actors who we've heard floated he's young, and he's got a swagger and confidence similar to Harrison Ford. We haven't heard his American accent yet (or at least I haven't) so that's a question, but it's obviously workable. Nearly every one of our biggest action stars these days are either British or Australian.
So again – is there any truth to the Taron Egerton Han Solo rumor? We don't know. But it's one of the best ones yet. What are your thoughts?