'Barbershop 3' Is Happening With Director Malcolm D. Lee; Ice Cube To Return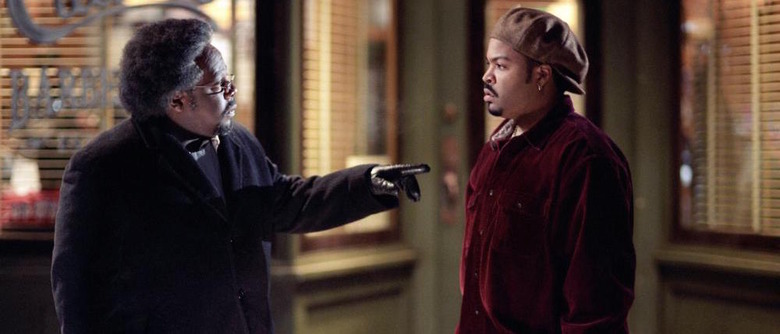 It's time for another trip to the Barbershop. Malcolm D. Lee (The Best Man Holiday) is in talks to direct a new installment of the comedy franchise, over a decade after the last one hit theaters. In addition, Ice Cube and Cedric the Entertainer are nearing deals to reprise their roles. Get all the latest details on Barbershop 3 after the jump.
Deadline got the scoop, and writes that the project is coming together quickly. Lee replaces Tim Story, who was expected to direct as of last year. Cube will produce through his company Cube Vision, along with Bob Teitel and George Tillman Jr. All three served as producers on previous Barbershop projects.
Directed by Story, the original 2002 Barbershop centered on a man (Cube) who inherits his father and grandfather's barbershop on Chicago's South Side. He's initially ambivalent about his job, and even loses the store at one point. Ultimately he comes around, gets the store back, and learns a lesson about the importance of community.
The film was a solid hit, earning strong reviews and grossing $77 million worldwide on a $12 million budget. A sequel, Barbershop 2: Back in Business, arrived in 2004, and a Showtime series followed in 2005. A spinoff movie titled Beauty Shop, featuring Queen Latifah's hairstylist character from Barbershop 2, was also released in 2005.
As of now, there's no word on what the story will be or which, if any, of the other cast members will be back. We heard last year Latifah was being courted but she isn't mentioned in the latest reports.
Lee last directed The Best Man Holiday, a sequel to his 1999 debut The Best Man. He's set to return for the third entry in the series, 2016's The Best Man Wedding. His other credits include Undercover Brother, Roll Bounce, Soul Men, and Scary Movie 5.
Cube recently wrapped Ride Along 2 and has been working as a producer on the N.W.A. biopic Straight Outta Compton. Cedric the Entertainer was seen last year in Chris Rock's Top Five.