LOL: 'What We Do In The Shadows' Vampires Reveal The Rules Of Being A Vampire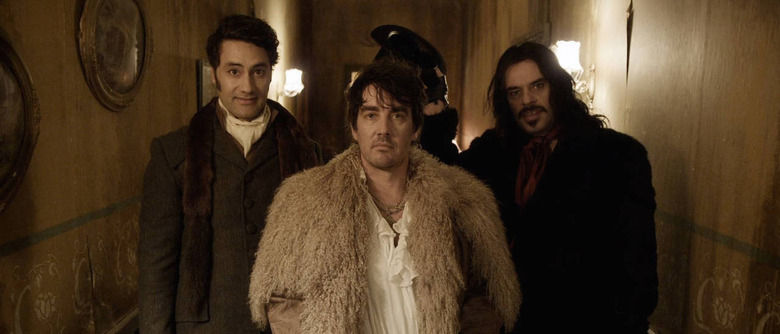 If you've seen enough vampire shows and movies — and there are always plenty to choose from — you've probably noticed that they feature some conflicting mythology. Do these creatures of the night sparkle when exposed into sunlight, or burst into flames? Can they control your mind, or just read it? Fortunately, the real vampires of What We Do in the Shadows are here to set the record straight.
In a new Funny or Die video, Viago (Taika Waititi) and Vladislav (Jemaine Clement) lay out 7 vampire truths. Along the way, they dispel stereotypes (they don't all wear capes... except the ones that do) and reveal personal tastes. (Evanescence is big with bloodsuckers, apparently.) Watch the What We Do in the Shadows vampire rules after the jump. 
The video works perfectly whether or not you've seen the movie. If you haven't, it'll tune you into the film's particular sense of humor, which will hopefully inspire you to buy a ticket. If you've already watched it, you'll probably just be delighted to hang with Viago and Vladislav again, even if it's just for a few minutes. And even if the almighty Stu is nowhere to be seen.
Viago and Vladislav take a lot of the biggest vampire-themed entertainments to task, including LIE Blood (True Blood), LIElight (Twilight) and The LYING Boys (The Lost Boys). Still, they're willing to admit they aren't all bad. Blade, for example, was "actually a fun movie... full of lies." If you want to find out why they're so obsessed with virgins, though, you should watch the movie. It's too good to spoil here.
What We Do in the Shadows is in theaters now — check the official website to find out if it's playing anywhere near you. Clement and Waititi wrote, directed, and star in the movie, about a clique of vampires just trying to get by in our weird world. Jonathan Brugh, Cori Gonzalez-Macuer, Stuart Rutherford, Ben Fransham, and Jackie Van Beek also star. Oh, and Rhys Darby makes a cameo appearance for all of you Flight of the Conchords fans.