LOL: Sesame Street's 'Birdman' Parody Is Oscar-Worthy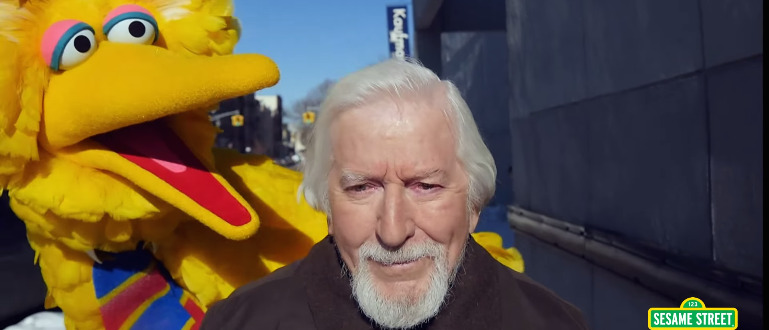 Not many of us can relate to Riggan Thomson's exact predicament, because not many of us got world-famous playing avian heroes. But you know who can? Caroll Spinney, the puppeteer behind Big Bird, in this pitch-perfect spoof of Alejandro González Iñárritu's Birdman.
Big Birdman: The Unexpected Virtue of Orange Pants follows Spinney as he asks himself questions like "How did we get here?" and gets advice from a certain giant bird. Watch the Sesame Street Birdman parody after the jump. Mashable Watercooler posted the Sesame Street Birdman parody.
For your Oscar consideration: A veteran puppeteer, who plays an avian icon, battles his ego and attempts to find his way back to a certain furry and friendly street. This is 'Big Birdman.'
Big Birdman gets every detail right, from the percussive score to the single-take look to the creeping sense of existential despair. (Okay, maybe not so much that last part. Though Spinney does shed some tears.) There's even a cheeky verbal reference to Birdman, as Big Bird muses, "Maybe we should have done that Raymond Carver play."
Unlike most Sesame Street parodies, this one really just seems to be for adults — the people who love Birdman now but adored Sesame Street back in the day. Nevertheless, it's still a Sesame Street video, so it's all child-proofed. Spinney's dressing room smells like birdseed, not balls. And Big Bird sums up their career together by wondering how many different ways there are to learn the alphabet. (The answer is "Lots, apparently.")
The real Birdman is considered (with Boyhood) one of the favorites to win the Best Picture Oscar come Sunday, but for my money I'd rather the trophy went to Big Birdman. Sure, Iñárritu's movie is a stunningly ambitious work featuring a tour-de-force performance by Michael Keaton. But does it involve Cheeto-orange bird legs? Didn't think so.