EL James Wants More Control Over 'Fifty Shades Of Grey' Sequel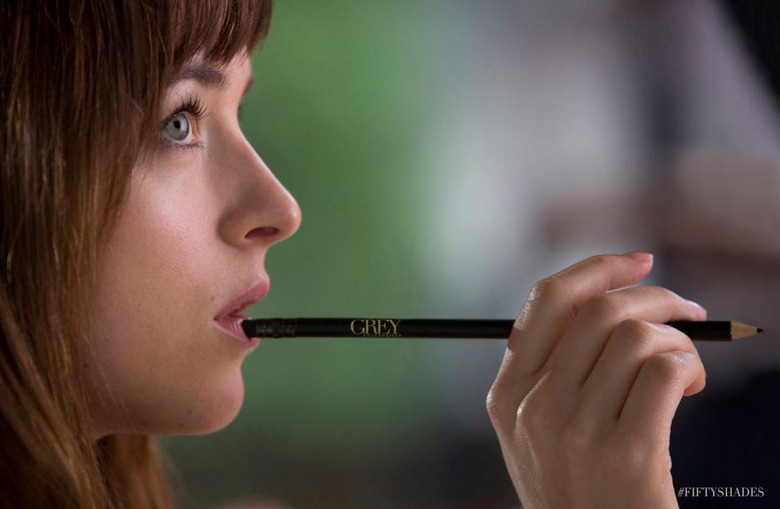 Fifty Shades of Grey is exactly the box-office powerhouse Universal and Focus hoped it might be, with a $300m global take so far, and few signs of slowing down as the film goes into its second weekend. (That's despite a low CinemaScore of C+, which would generally suggest a huge drop-off is on the way.)
That isn't making a green light for the proposed Fifty Shades of Grey sequel, Fifty Shades Darker, come any faster. We've heard suggestions that Sam Taylor-Johnson, who directed the first film, won't be back for the second. And now, as original author E.L. James jockeys for more control over the film version of her creation, screenwriter Kelly Marcel may be out as well, with James taking over screenwriting duties. 
Variety reports that James wants to take, er, a firmer hand with the sequel, which is presumably the result of the many reported conflicts between she and Taylor-Johnson. Though even if she does write the first draft, Universal would probably reserve the option to hire another screenwriter to do revisions.
The official studio line on the situation is "the studio had always intended to sit down with the author after the film opened and discuss next steps and that has not yet happened," which is the PR version of Pee-Wee Herman saying "I meant to do that" while picking himself up from a pratfall.
The sequel moves much more into overt thriller territory, with Cristian Grey doing more weird stalking, and Ana dealing with unwanted attention from her new boss. Without the lure of the unknown that the intro to BDSM provides the first film, the sequel will have to work even harder to distinguish itself if it wants to even equal the success of the first film, much less top it.
Another question is, following any behind the scenes reshuffling, whether or not the cast will be affected. Dakota Johnson really has to stick around, because she's the prime redeeming quality of the film as-is. But if they wanted to re-cast the Christian Grey role, played in the first film by Jamie Dornan, there might not be too many complaints after his severe lack of chemistry with Johnson the first time out. Regardless, any scheduling delay is going to be problematic for them, as they put off other work until they know what's up with this sequel.
Any cast changes are purely, totally speculative at this point. We'll see if James badgers Universal into letting her write (which seems likely) and then who takes the director's chair in the wake of that decision. Currently, Universal would love to have the film out next year, but a Valentine's Day release may already be out of reach, and the scheduling will have to fall in line behind work on the screenplay.