'Wayward Pines' Trailer: This Town Is Watching And Listening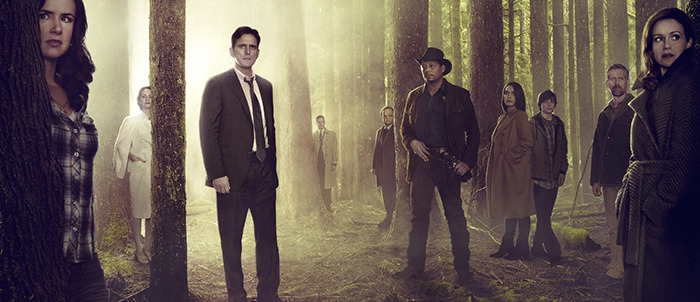 M. Night Shyamalan produces the show Wayward Pines, based on the novel Pines by Blake Crouch, and the show really looks like some bizarre combination of Twin Peaks and The Prisoner. I've made that comparison before, but this new Wayward Pines trailer really hammers it home. Matt Dillon is a Secret Service agent investigating the disappearance of two other agents, when he finds himself trapped in a small town that seems friendly enough, but is actually far more sinister than its outward appearance suggests. Check out the new trailer below.
Shyamalan also directs the pilot, and the show co-stars Melissa Leo, Terrence Howard, Carla Gugino, Toby Jones, and Juliette Lewis. There's a lot of creepy action in this trailer, and I'm curious to see if the extended series format turns out to be a good venue for Shyamalan's particular thriller tendencies.
Wayward Pines opens its doors on May 14 at 9 PM on Fox.
Imagine the perfect American town... beautiful homes, manicured lawns, children playing safely in the streets. Now imagine never being able to leave. You have no communication with the outside world. You think you're going insane. You must be in Wayward Pines. Secret Service Agent ETHAN BURKE (Academy Award nominee Matt Dillon, "Crash," "City of Ghosts") drives to the bucolic town of Wayward Pines, ID, searching for two missing federal agents. One of the best Secret Service agents in the Seattle office, he's the man who knew missing agent KATE HEWSON (Carla Gugino, "Watchmen," "Entourage") better than anyone. They were more than partners; their relationship nearly destroyed Ethan's marriage.
Everything changes when a truck slams into his car...and he wakes up in the Wayward Pines Hospital, with the intense and unpredictable NURSE PAM (Academy Award and Emmy Award winner Melissa Leo, "The Fighter," "Treme") at his bedside. It soon appears that Pam is more interested in harming than healing. She and Ethan grow into deadly rivals, and her role in the town proves much deeper than anyone realizes.