'Deadpool' Adds 'Homeland' And 'Firefly' Star Morena Baccarin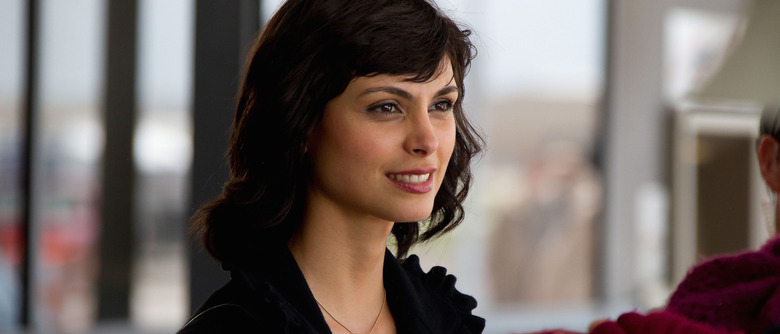 Morena Baccarin is jumping from one comic book universe to another. The Gotham recurring actress has clinched the female lead in Deadpool, Fox's new film built around the Marvel character of the same name. She joins Ryan Reynolds, T.J. Miller, and Gina Carano in the film.
More on the Deadpool Morena Baccarin casting after the jump.
THR reported the news. Baccarin beat out several other actresses for the role including Taylor Schilling (Orange Is the New Black), Crystal Reed (Teen Wolf), and Rebecca Rittenhouse (The Red Band Society).
Tim Miller is directing Deadpool from a script by Rhett Reese and Paul Wernick. Reynolds' lead character is an assassin who undergoes a treatment to cure his cancer. The procedure leaves him scarred and twisted, but on the bright side it also gives him superpowers.
Baccarin will play the love interest to Deadpool, who feels conflicted about falling for a man with a scarred face. She should probably be more concerned about the fact that he's kind of crazy, but the latest reports how she feels about that part.
As previously reported, Carano plays Angel Dust, a Morlock (a.k.a. a mutant who lives underground instead of blending into "normal" society). Miller serves as comic relief, and Ed Skrein is rumored to be playing a villain. X-Man Colossus is expected to appear, but won't be played by X2's Daniel Cudmore.
Bacccarin is a veteran of geek-friendly properties. She first broke through as space courtesan Inara Serra on Joss Whedon's short-lived but much-loved Firefly, and currently plays Dr. Leslie Thompkins on Fox's Batman prequel Gotham.
In addition, she's known for her appearances on ABC's V and Showtime's Homeland. Her upcoming big-screen credits include the action-comedy Spy, directed by Paul Feig and starring Melissa McCarthy.
Deadpool is on track to begin shooting in March, for release on February 12, 2016. Simon Kinberg and Lauren Shuler Donner (of the X-Men movies) are producing.