Rumor: Cecily Strong Up For Major Role In New 'Ghostbusters'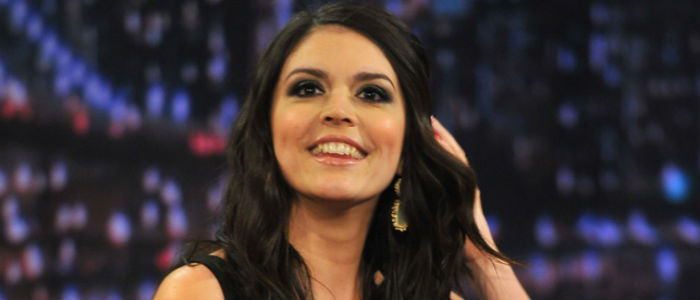 While Paul Feig's new Ghostbusters will have four funny actors fighting ghosts in New York City, that's where the similarities to the original film end. Of course, we know this time all the leads will be played by women (Kristen Wiig, Melissa McCarthy, Leslie Jones, Kate McKinnon) and that their roles aren't going to line up with the roles in the original film. We have an idea of what those roles are and now we have an idea of a fifth, key role in the film. A role that might be played by Saturday Night Live actress Cecily Strong. Read the latest Ghostbusters casting rumor below.
Film Divider reported on the possible casting so we're going to label this as a rumor. But they have a lot of details on the role Feig potentially wants Strong for:
The role is one of the biggest non-Ghostbuster parts aside from the villain. She's an authority figure who liaises with our heroines, privately backing their activities and acknowledging their legitimacy, but publicly denouncing the group to the media in order to avoid panic amongst the wider populous.
In Ghostbusters terms, this kind of sounds like an inverse Walter Peck role. Another twist on audience expectations. However, an earlier rumor says there's a role more directly correlated to Walter Peck in this film, and that Feig wants Bill Murray for it, but that's unconfirmed.
Strong is a key member of the current Saturday Night Live cast. She was a Weekend Update host and has since given up that spot for more sketch work. (Watch a bunch here). Last month, she appeared in the Sundance comedy The Bronze in a small supporting role and later this year is doing the White House Correspondent's Dinner, which is a huge honor for any comedian.
The link between Saturday Night Live and Ghostbusters is undeniable. When Dan Aykroyd was originally writing the film, he was doing it for himself and cast members Eddie Murphy and John Belushi. Eventually, another SNL alum Bill Murray took the lead and if the Strong rumor is true, she'll join two current cast members, an alum and popular host, in the film. This is a rumor, but one that makes a lot of sense.
Ghostbusters opens July 22, 2016. Do you believe Strong would be right for the cast?