'Game Of Thrones' Deleted Scenes: Everybody Hurts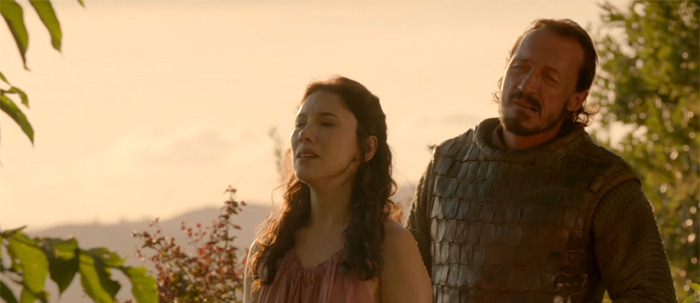 Everybody hurts in Game of Thrones, especially right after they're cut by the sword of betrayal. In two newly-released deleted scenes from the fourth season, we see two major characters dealing with their own respective feelings in the wake of betrayal. Clearly, minor spoilers for Season 4 follow in these Game of Thrones deleted scenes.
You can see why both of these scenes, which come from HBO, were cut — they're a bit static, and they verge on redundant by explicitly stating things that we already know about these characters.
For example, this first deleted scene, from the season's second episode 'The Lion and the Rose' (which you probably remember for one shocking moment in particular) features Tyrion's hired muscle Bronn telling Tyrion's cast-off lover Shae something that we all inherently understand about the people in power in Westeros, because we've seen it happen several times already. It is nice to get a new shade of character for Bronn, however.
This second scene, from the season's eighth episode 'The Mountain and the Viper' (also memorable for its own shocking scene) is even more slight, as it features Daenerys making clear to Missandei that she takes betrayal very seriously, following the revelation (to Daenerys) that her right-hand man Jorah Mormont was once charged with spying on her.
That scene just makes me hope that we will indeed see Daenerys betrayed again in the new season, if only because it might mean dragon violence. (She could, in fact, be betrayed, in her eyes, by her own dragons, as they grow older and more impetuous.)
Game of Thrones Season 5 premieres April 12, only on HBO.