Sequel Bits: 'Fifty Shades', 'Furious 7', 'Zoolander 2', 'Sharknado 3', 'The Walking Dead'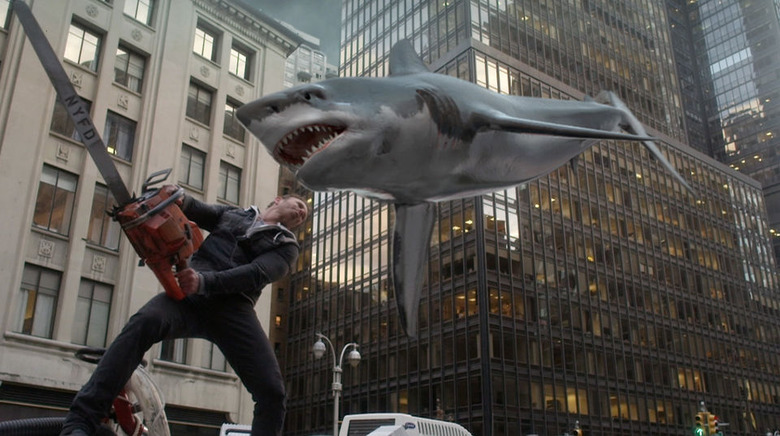 After the jump:
Sam Taylor-Johnson might not do more Fifty Shades
Tony Hale gets sucked into Alvin and the Chipmunks 4
Cassie Scerbo will be terrorized by Sharknado again
Zoolander 2 is jetting off to Rome this spring
The Walking Dead spinoff pilot finishes shooting
AMC is skeptical about the Crouching Dragon sequel
See some new footage in a Furious 7 music video
The abrupt ending of Fifty Shades of Grey left audiences begging for more (or, in some cases, really angry), but it seems Sam Taylor-Johnson won't be the one to give it to them. Although the director has previously said she's "signed on" for the sequel, the U.K. tabloids are reporting that she's trying to get out of it, and THR notes there have been "no discussions" about her return at this point.
This won't be surprising if you've read any interviews with Taylor-Johnson, as she's been very open about her many disagreements with author E.L. James. But there's still time for Taylor-Johnson to change her mind. As her rep notes, the sequel hasn't officially been greenlit yet. [via The Playlist]
***
As a fan of both Veep and Arrested Development, I wish Tony Hale had better things to do than the fourth installment of a grating animated film series. Alas, he does not. Hale has just signed on to play the villain in the upcoming Alvin and the Chipmunks: The Road Chip, due out December 23. Jason Lee, Justin Long, Matthew Gray Gubler, and Jesse McCartney also star. Walt Becker directs. [Deadline]
***
Poor Cassie Scerbo can't catch a break. After being terrorized in the first Sharknado, she's set to get swept up in the upcoming Sharknado 3. She joins returning stars Ian Ziering and Tara Reid. The latest incarnation of the monstrous weather event will slam into the "Feast Coast," from Washington, D.C. to Orlando, Florida. Witness the carnage on Syfy this summer. [Deadline]
***
Jet-setting male model Derek Zoolander is headed to Europe. According to Italian site Bad Taste, Ignazio Marino, the mayor of Rome, has announced that Zoolander 2 will shoot for 12 weeks at Cinecittà Studios this spring.
The comedy sequel brings back Ben Stiller as the "extremely dim-witted" title character, along with Christine Taylor as journalist Matilda Jeffries. Will Ferrell and Owen Wilson are also expected to reprise their roles, and Penelope Cruz will join as a new character. Justin Theroux, who played the evil DJ in the first film, is directing. [via Coming Soon]
***
AMC's The Walking Dead spinoff (codenamed Cobalt) is shuffling to the finish line. Executive producer Gale Ann Hurd offered a minor update in a recent interview, noting that the pilot had completed shooting earlier this month but that "we haven't been picked up to series yet."
That's nothing to be alarmed about, though. It's normal for networks to actually look at and think about the pilot before making a decision, and there's no need for AMC to rush the process. In the meantime, The Walking Dead is still going strong in Season 5, and has already been renewed through Season 6. [THR]
***
The major theater chains were none too thrilled when Netflix announced plans to release the Crouching Tiger, Hidden Dragon II: The Green Legend simultaneously on Netflix and in IMAX. As of now, AMC's stance doesn't seem to have changed. AMC Entertainment CEO Gerry Lopez sounded deeply skeptical in a recent interview:
These many months later, we still don't know what the deal is. We don't know anything about the movie other than it's coming and it's coming in August.
There's been no proposal, just a bunch of headlines.You don't have the same storytellers, the producers, the director. It's hard to believe it's not a specialty product that's made for video, but good luck to them.
At the time, the companies threatened a boycott. But assuming their campaign doesn't put a dent in Netflix's release plans, the Crouching Tiger sequel should be out August 28. [Variety]
***
Disney's live-action Marvel movies sometimes make sequel plans before the first film even opens, but Disney's first animated Marvel movie is taking things a little bit slower. While Big Hero 6 co-director Don Hall admits the thought of working with Hiro and his pals again "definitely has its appeal," no one's making any definite plans yet. Co-director Chris Williams says:
Certainly the way the movie ends it's left open for further adventures, but we literally have not talked about anything. We want to get through the launch of the film, take some time off, and once we're a little more rested, we'll have more time to think about that sort of thing.
And Hall adds:
John Lasseter's very supportive of the directors, and he won't force them to put out a sequel unless they have a story that really excited about. It has to feel like a story that really has to be told, or deserves to be told. It can't just be cashing in on the success of a previous film.
Which is a smart approach, and one Disney has taken with its other recent animated features. Heck, they haven't even set plans for a Frozen 2 yet, and Frozen was literally the biggest animated movie of all time. [Creative Screenwriting via Screen Rant]
***
Driving a car through a skyscraper just isn't as fun without the right music. Fortunately, that shouldn't be a problem for the Furious 7 gang. The soundtrack listing has jus been revealed, and it promises tons of high-powered tunes by Wiz Khalifa, Iggy Azalea, Flo Rida, T.I., and many, many more. Check it out:
1. Ride Out – Kid Ink, Tyga, Wale, YG, Rich Homie Quan
2. Off-set – T.I. & Young Thug
3. How Bad Do You Want It (Oh Yeah) – Sevyn Streeter
4. Get Low – Dillon Francis & DJ Snake
5. Go Hard or Go Home – Wiz Khalifa & Iggy Azalea
6. My Angel – Prince Royce
7. See You Again – Wiz Khalifa (feat. Charlie Puth)
8. Payback – Juicy J, Kevin Gates, Future, Sage The Gemini
9. Blast Off – David Guetta & Kaz James
10. Six Days (Remix) – DJ Shadow (feat. Mos Def)
11. Ay Vamos – J. Balvin (feat. French Montana and Nicky Jam)
12. GDFR (Noodles Remix) – Flo Rida (feat. Sage The Gemini and Lookas)
13. Turn Down For What – DJ Snake & Lil Jon
14. Meneo – Fito Blanko
15. I Will Return – Skylar Grey
16. Whip (Bonus Track)* – Famous To Most
You can listen to a couple of the tracks below. The second one, "Ride Out," even features some new bits of Furious 7 footage.
Furious 7 the movie opens April 3. Furious 7 the soundtrack hits March 17. [The Playlist]