'Powers' Inside Look: PlayStation Goes Dark With Its New Superpowered Series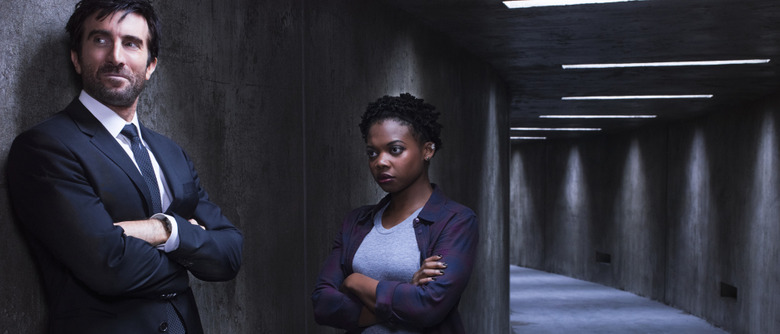 Between Gotham, Agents of S.H.I.E.L.D., Agent Carter, The Flash, Arrow, and the upcoming Daredevil, you might think you don't need another superhero show in your life. But the PlayStation Network's Powers makes a strong case for itself with a new promo featuring tons of fresh footage.
The upcoming series, which will be the first-ever original scripted series from Sony's PlayStation, follows two cops (Sharlto Copley and Susan Heyward) who specialize in cases involving superpowers. Eddie Izzard, Noah Taylor, Olesya Rulin, Max Fowler, Michelle Forbes, and Adam Godley also star. Get the Powers inside look after the jump. 
PlayStation debuted the Powers inside look on YouTube. It includes a good amount of new footage, plus behind-the-scenes interviews with the cast and crew and some background on the source material.
Powers differs from the half-dozen or so other comic book adaptations currently airing in a couple of ways. For one thing, it's not a Marvel or DC series. (Well — technically, Powers is published by Marvel Comics through its Icon imprint, but it's not really part of the Marvel universe.) For another, it's not a broadcast drama, which Bendis believes gives it a bit more freedom.
"We are a rated-R independent comic about superheroes at their worst, and we needed a home like PlayStation," he says. Copley adds, "If anything, it's given us more license to make the show a little more gritty, a little darker." How dark? Executive producer Charlie Huston won't give away too much, but he does warn with a laugh: "I'm not a happy ending guy."
Powers debuts March 10 at Sony's PlayStation Store with three episodes. New episodes follow each Tuesday. David Slade directed the first two installments of the ten-episode first season.
Powers, an edgy dramatic series, follows the lives of two homicide detectives, Christian Walker and Deena Pilgrim, who are assigned to investigate cases involving people with superhuman abilities, referred to as "Powers." Set amidst today's paparazzi culture, Powers asks the questions, what if the world was full of superheroes who aren't actually heroic at all? What if all that power was just one more excuse for mischief, mayhem, murder, and endorsement deals?
Enter the men and women of the Powers Division, the brave people in charge of protecting humans like us and keeping the peace over commercialized, god-like men and women who glide through the sky imposing their power over the mortals who both worship and fear them.