Matthew Vaughn Talks About The Idea Of Colin Firth Returning For 'Kingsman 2'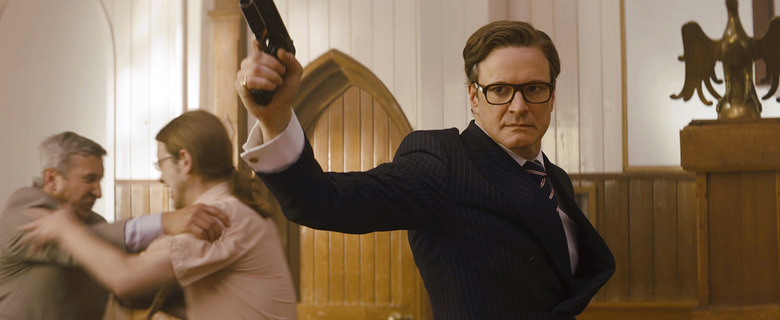 There is no Kingsman 2, at least right now. Matthew Vaughn's film Kingsman: The Secret Service opened this past weekend, and did solid business behind Fifty Shades of Grey. We don't know of sequel plans as yet for the film based on the comic book series by Mark Millar and Dave Gibbons. But there's always a chance — a good chance, given the way these things tend to go. And so Matthew Vaughn is airing some of his Kingsman 2 ideas, which include possible options for the character played by Colin Firth.
Note that spoilers for Kingsman: The Secret Service follow.
No, really, there are big Kingsman spoilers from here on out.
Empire talked to Vaughn, who said there are ideas being batted around to bring Colin Firth back for the sequel, despite the fact that his character Harry is shot and killed in the first film. (Even though his death is seen in a long shot that leaves just enough room for doubt about the true outcome.) Of the decision to go through with that choice, Vaughn says,
It was a big decision, but you have to make a decision that's right for the movie. I'm sure George Lucas had people saying, "Are you sure we want to kill off Alec Guinness in Star Wars?'"
You can listen to a lot more talk with Vaughn on the Empire podcast, which is embedded right here:
To USA Today, Vaughn said,
A lot of people are very upset that Colin might not be in the sequel, but I'm coming up with ideas at the moment. If people buy tickets in America, I've got a feeling we'll figure out a way for having Colin back.
That said, while we probably won't see Harry as a Kingsman version of a force ghost, he might be seen in flashbacks, or in imagined sequences as an advisor or mentor. Because the sequel would definitely be Taron Egerton's film.
The sequel will be 'This is the modern-day gentleman spy.' Because Harry isn't. Harry even says, 'There is a reason why we've developed weak chins.' He said that meaning, 'Look at us, we need to get new blood into this system,' and that's what Eggsy is. I joke that we've made the prequel to the Eggsy movie.